Readdle has released an update for ReaddleDocs for iPad, adding two-way sync with Dropbox and iDisk, as well as support for iOS 4.2's AirPrint and background transfer abilities.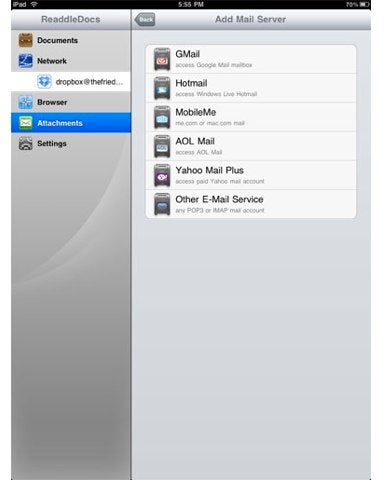 ReaddleDocs works as a file editor, PDF and Microsoft Office file-reader, Dropbox viewer, and virtual flash drive for your iPad. You can open large PDFs, run full text searches and extract text from them, and edit and e-mail text documents—all from within the app.
While previous versions of ReaddleDocs supported one-way file synchronization from cloud-based storage services—that is, changes you made in your documents elsewhere would be reflected in ReaddleDocs—version 1.7 of the app adds support for full two-way syncing.
Now, with a single tap, you can sync an entire folder on Dropbox, iDisk, or Readdle Storage—the company's own WebDAV storage service—with a local folder on your iPad. And any time you make changes in ReaddleDocs or elsewhere, you'll be able to see the changes everywhere. This new ability should be especially helpful to those who like to keep their documents in the cloud so they can edit them from different locations and devices.
ReaddleDocs has also gotten support for few new iOS 4.2 features: files can now be printed directly to any AirPrint enabled printer, and online file transfers will continue in the background when you switch to another app.
ReaddleDocs 1.7 for iPad costs $5 and runs on iOS 3.2 or later.