The widespread popularity of social networking services over the last decade has changed how we communicate not only with each other, but with our favorite music artists as well. Services like Twitter, Facebook, and Myspace let fans engage directly with artists, but none of these popular networks are particularly geared toward music. Enter Flowd: a location-based social networking service and app by Helsinki-based company, Digia, that emphasizes connecting fans with their favorite artists.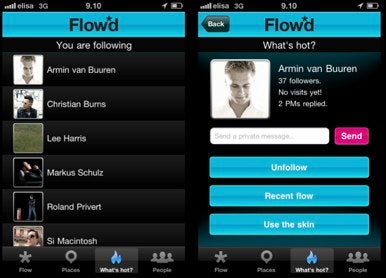 Flowd offers many of the standard features found in popular location-based social networking apps like Foursquare and Gowalla; you can check in to local hangouts, broadcast your location to friends, view a list of places most frequented by your friends, and so on. But what sets Flowd apart from other apps in this genre is its inclusion of artist pages, where can check in to view and comment on an artist's latest activities, and take part in competitions and contests.
Antti Viitanen, Digia's Director of Product Management, walked me through a brief tour of the newly released app; here's a hands-on first look.
When you first run the app, Flowd asks you to create a new user account—a quick and painless process. Once created, your account can be synced with Facebook Connect and Twitter, letting you share your activity on Flowd with those networks.
Flowd's interface, which should feel familiar to anyone who's used an iOS social networking app, consists of four main views that you can access though a navigational menu bar at the bottom of your display. The first view, Flow, is a news feed that lets you view and comment on the most recent activity by your friends and followed artists. Above the news feed is a text box for typing and sending out Shouts, short bursts of text that show up on your friends's Flow feeds and can be commented on. When sending a Shout, you are also given the option to share it on Facebook or Twitter.
The next view, Places, lists nearby institutions. You can "visit" a place if you're close enough to it—an action similar to checking-in on Foursquare—view its location on a map, view its recent Flow of visitors, Like it, or leave a public comment. Because it's a new service, Flowd's list of places is currently pretty sparse, but users can remedy this by adding new locations on their own.
The third view, What's Hot, displays a list of your followed artists, as well as a list of buzz-worthy artist pages that you can check in to or follow. The fourth tab, People, lets you update your profile, view your friends's profiles and Flows, and send private messages.
Flowd's artist pages are similar to Facebook pages in that they are separate from standard user accounts, and allow fans to "follow" them, rather than friend them. You can check in to an artist's page to view concert information, latest news, and photos. You can also post Shouts on an artist's wall, and broadcast to your friends whether or not you will be attending an artist's show. I visited the page of Armin van Buuren—a world-famous DJ that Digia is using to promote its platform—and was able to view his recent Flow, which included visits to different concert venues and a few brief Shouts about his rehearsals.
Down the line, checking in to an artist's page will do more than fill you in on their recent happenings. Flowd keeps track of the number of times you've checked in to an artist's page, and eventually artists and record labels will be able to throw contests in which fans can win prizes and awards based on their check-in statistics.
Artists can easily sign up for an artist page at Flowd's Website, and unlike certain music-based social networks—we're looking at you, Ping—independent and signed artists alike are both welcome to join.
Though it's nothing new for an artist to be able post updates and interact with fans via comments and private messages, Flowd's location-based aspect has the potential to bring entirely new meaning to the idea of "closely following" your favorite artist. Artists broadcasting their whereabouts to fans via location-based social networking is a relatively unexplored, but promising concept. If thoughtfully used, it could potentially lead to a higher level of artist-fan interaction—or, at the very least, some interesting location-based contests.
As with any social networking service, Flowd's success will hinge largely on its ability to attract a sizable, active user base. If it can implement a successful equivalent to Foursquare's badges and rewards system—one that compels users to furiously compete for titles like "roadie" or "manager" of an artist instead of "mayor" of a local pub—and attract enthusiastic, inspired artist participation, Flowd could have a bright future as the go-to location-based social networking service for artists and music lovers.