If you're curious about OnLive, the unique cloud-based gaming service that debuted in June this year, or if you simply need an outlet for your inner video-game voyeur, you may be interested in the company's new OnLive Viewer app for iPad.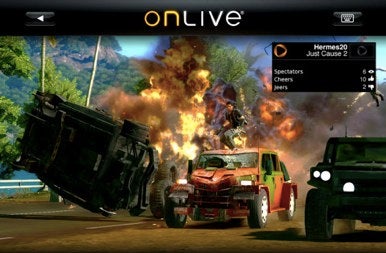 OnLive, for those who are unfamiliar, is a streaming gaming service that does for games what Netflix does for movies and TV shows. You can install OnLive's Mac or PC clients, or buy the company's $99 TV appliance, then purchase daily or monthly passes to play any game from the company's expanding library.
If that sounds a bit like other services, such as Valve's Steam, the twist is that OnLive's servers stream the game as you play it; you're controlling a live video stream of the game, which is running on a server. The idea is that as long as you have a decent broadband connection, you don't have to spend all the money or time to keep a gaming rig updated for the latest and greatest titles. And since game developers don't have to build or port a second version of the game, even Mac users can get in on the fun.
Now, OnLive Viewer isn't the full-blown iPad gaming client that the company hinted about when it debuted in June. Instead, it's more of a YouTube or Ustream client for video games. You can watch any game that someone else is playing with OnLive and switch between games like surfing TV channels (except OnLive's main characters are a little blockier than TV's and more prone to resurrecting after losing a life). You can also watch and rate "Brag Clips"—videos that show off tough moves or funny failures—and manage your network of OnLive friends.
It should go without saying, but OnLive isn't oblivious to the full gaming potential of an iPad client. The real challenge of bringing mainstream PC games to the iPad is interface complexity. Most desktop games, especially big-hitters like the Modern Warfare and Assassin's Creed series that are ideal for OnLive's service, are designed to require the complex button layouts and manipulation that only a controller or a keyboard and mouse can offer. OnLive states in its press release that full gameplay abilities will arrive in future app updates, though it stops short of mentioning which games we'll be able to actually play when the time comes.
OnLive Viewer is available now in the App Store for free. While playing games with OnLive requires the purchase of either a daily pass or a monthly subscription which start at $5, using OnLive Viewer to peek in on games being played is free.