The market for Mac FTP clients is by no means lonely, which is why BinaryNights is trying to stand out with its recent major 2.0 upgrade to ForkLift. The new version gained quite a few new features, including a Cover Flow viewer, Stacks for collecting files, and new tools for managing your transfer queue and your favorite FTP sites.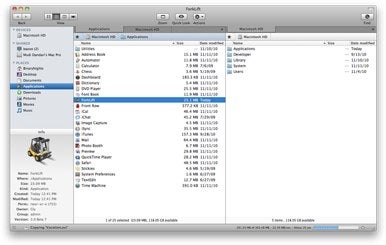 ForkLift 2, the first major new version of the program in four years, has a clear focus on improving your file management workflow. New features like Synclets let you save folder sync settings to the desktop or Dock for easy access, and Disklets let you mount and manage your remote space on your Mac as if it were a USB drive.
New Cover Flow and Quick Look views let you preview local and remote files quickly, and a new Transfer Queue gives you a birds eye view and control over all files in transit. A Stacks feature also gives you a temporary space for storing files from multiple locations, then zipping them together or uploading them in one swift move.
BinaryNights says it also gutted and rebuilt many of ForkLift's existing features. Its transfer engine should be much faster, and you can now exercise more precise control over the Folder Sync feature by creating rules, even on a file-by-file basis.
Some of ForkLift 2's new features are competing or inspired by notable peers, including Transmit 4, Fetch 5, and Interarchy 10. But ForkLift 2 is attempting to carve out a niche by combining these new features with a very familiar, Finder-like environment that's not quite as radical a departure as Transmit's custom interface or Interarchy's plug-in architecture.
A number of other new features and interface tweaks round up ForkLift 2, which requires Mac OS X 10.6 Snow Leopard. A free demo is available, and a single user license is $30. Family license packs for "all the Macs in your household" are $50, and owners of the previous version can upgrade for $20.