A font-conversion software program has been updated to include support for formats used primarily on the Web.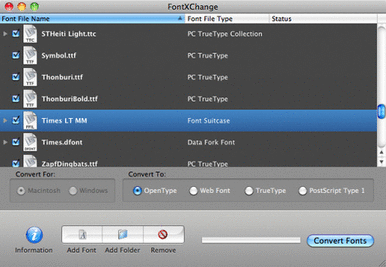 FontXChange for Macintosh 3.0 was unveiled Tuesday by North Carolina developer FontGear. Previous versions already allowed creative design professionals to convert Windows-based fonts for use on Macs, and vice versa. Users could also convert their fonts for use in the PostScript (or Type 1), TrueType, and OpenType font file formats.
Tuesday's update gives users the ability to convert their fonts to the WOFF, SVG, and EOT formats used on the Web, and it automatically generates HTML files when converting fonts for Web use. FontGear says the software update also includes an updated user interface and improved support for font previews.
A free demonstration download is available at FontGear.net. A single-user license costs $99. The program is compatible with computers running OS X 10.4 or later.