Apple's decision to omit the numeric keypad from its wireless keyboard might save desk space, but for people who do a lot of numeric entry—as well as audio and video professionals, who often rely on certain number pad keys for shortcuts—the keypad-less keyboard can be a major bummer.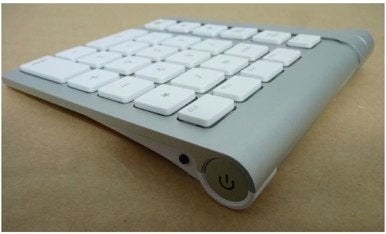 LMP's Bluetooth Keypad, which just passed through the FCC, brings numeric redemption to your wireless keyboard. Designed to blend seamlessly with the styling and brushed aluminum color of the Apple wireless keyboard, the LMP latches onto the right side of the keyboard, bestowing it with glorious numeric keypad powers.
The keypad is powered by two AA batteries and includes navigation shortcuts and extra function keys as well. It also includes a mechanical push-through bar that can trigger the Apple keyboard's power button. A smaller button next to the push-through bar turns the keypad on and off.
Pricing and availability are not yet available, but will hopefully be announced soon.
[via Wireless Goodness]