It used to be that if you had a set of speakers with Apple's 30-pin dock connector, that system would work with any i-device. Sadly, that's no longer the case, as many owners of older speaker systems have discovered.
I'm not talking about speakers with dock cradles that don't fit the latest iPods and iPhones. Most recent docking speakers use Apple's Universal Dock design, which means you can usually make your speaker system "current" by simply using the dock insert that came with your iPhone or iPod, or by buying the appropriate insert from Apple.
Rather, I'm talking about larger compatibility issues. Perhaps the most significant is that a few years back, Apple decided to modify the dock-connector port. Whereas older iPods charged via the dock connector's FireWire circuitry—remember, early iPods were FireWire-only—newer iPods, as well as the iPhone and iPad, charge and sync only over USB. Which means that if you stick your iPhone in an older iPod dock, there's a good chance the dock won't charge the iPhone—even if it has no problems playing audio from the phone.
At the same time, most current and older docking speakers aren't compatible with the iPad because an iPod/iPhone-sized dock cradle can't accommodate the iPad's large size.
As a result, many people have felt forced to buy a new speaker system specifically made for an iPhone, iPad, or recent iPod. But before you rush out and buy new speakers, consider using an accessory designed to let you use newer players with older audio systems. You may end up extending the life of your current speakers while saving quite a bit of money.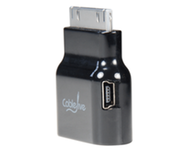 Dock-connector charging converters
When it comes to charging, the main problem for older dock-connector accessories is simply that Apple changed which of the connector's 30 pins carries power—the connector's audio features have been largely untouched. Thus, if an inexpensive accessory could reroute power from the older power pins to the pins your iPhone or recent iPod uses for power, you'd be able to get around this charging challenge.
A few vendors product just such accessories. For example, CableJive's $23 DockStubz is a tiny dongle that sits between your dock-cradle speakers and your iPod or iPhone, converting the charging circuitry while passing all other functionality through untouched. And if, for whatever reason, the speaker system's dock isn't providing enough power, a mini-USB port on the side of the DockStubz lets you connect a USB cable to provide additional power.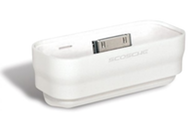 Scosche provides a similar dongle, sans mini-USB port, in the $25 Charging Adapter for iPod & iPhone, but the company's more appealing offering—at least when it comes to speaker docks—is the $40 iPod & iPhone Charging Adapter for Home Docks (available in white or black). This "Universal Dock converter," if you will, snaps into any Universal-Dock-design cradle and provides its own Universal Dock cradle on top, converting the charging circuitry along the way.
Dock-connector extenders
As mentioned above, the biggest challenge for using an iPad with most docking speakers is that the iPad is simply too big to fit in the dock cradle. (Some systems that eschew the Universal Dock in favor of a bare dock-connector plug may let you dock an iPad, but the iPad's body will likely block the system's speaker drivers.) What you need is a way to extend the dock-connector so you can plug in the iPad without having to fit the tablet in the speaker system itself.
CableJive also has you covered here. The company's $26 DockXtender is a cable that, as its name implies, extends your speaker's dock-connector plug—by either two or six feet, depending on the cable you buy—so you can use the speakers with any iPad, iPhone, or iPod, even if the speaker system's built-in dock doesn't fit the player. You just connect one end of the cable to your dock and plug the other end into the bottom of your player—the cable passes through all supported dock-connector functionality. (The DockXtender is also useful if your iPhone or iPod is in a case that's too bulky to let you place the player in your speaker's dock cradle.).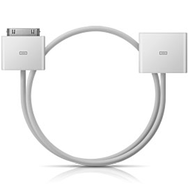 RadTech offers a similar, but less-expensive, product, the Dock Extender Cable (19-inch, $15; 47-inch, $20). RadTech's offering uses slimmer and more-flexible cabling, but doesn't pass through all dock-connector functionality. Specifically, RadTech says it does not support audio input (for recording audio on your iPod, iPhone, or iPad) or S-video output.
What you can't avoid
Unfortunately, there are some dock-connector issues with older speakers you won't be able to avoid. First, speakers designed for iPods and iPhones will charge an iPad very slowly thanks to the higher power requirements of Apple's tablet. (This is one reason why, unless you're trying to squeeze some extra life out of a really expensive older speaker system, it's probably not worth buying a charging converter and a dock-extending cable and joining them together to use your iPad with that system.)
Second, if your older speaker system wasn't designed with mobile phones in mind, it may produce static or buzzing when used with an iPhone or iPad, due to wireless interference. (Many of these systems will produce a warning message on your player's screen.) The only way to prevent this interference is to put your iPhone or iPad in AirPlane mode—or, on the iPad, to disable 3G.
Finally, Apple has also made changes to the dock-connector port's video circuitry over the years. Newer iPods, as well as the iPhone and iPad, will output video through the dock-connector port only if the accessory to which they're connected contains a special authentication chip. If your older video-capable speaker system doesn't include that chip, no adapter or cable will let you grab video from your player's dock-connector port—you'll have to do without video or, alas, shop for some new speakers.