Once again, we return to a galaxy far, far away for the latest in Star Wars gaming. This week's entrant? The ngmoco and THQ Wireless joint venture, Star Wars: Imperial Academy, a title that puts you in the shoes of one of the Empire's "elite" stormtrooper corps. And by "elite" I mean "can't hit the broadside of a Star Destroyer."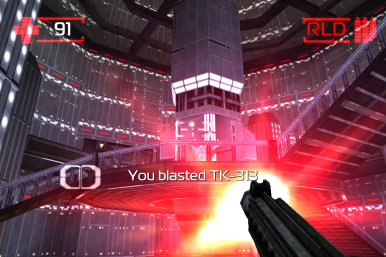 As an Imperial, er, academic, you'll face off against other stormtroopers in a battle to the death, utilizing a variety of weapons at your disposal. Along the way you'll earn credits that allow you to purchass new weapons, armor, and special unlockable items (for example, allowing you to play as iconic characters such as Luke Skywalker, Han Solo, and Boba Fett).
In order to actually earn those credits, however, you'll need to compete online against other would-be stormtroopers from around the Internet in deathmatches of 4 players. You can play a global match against strangers, a private match against your friends, or hone your skills offline by fighting clones. The game takes advantage of ngmoco's Plus+ gamer system to allow you to register your scores on leaderboards, earn achievements, and compare your performance with friends.
Just in case you don't feel like earning your way up the ladder the hard way, you can also tap into your bank account and buy bundles of key cards that you can turn into power-ups and credits (to buy further equipment). Bundles start at 30 key cards for $5 and go all the way up to 800 keys for $50. Somehow, the idea of paying for upgrades feels very, well, Imperial.
The game scales for a variety of player skill levels, with features like auto-fire, adjustable look and move sensitivity, and direction pads that you can show or hide. Unfortunately, like many touchscreen FPS controls, the performance is somewhat frustrating compared to traditional physical input methods. However, its graphics are fairly impressive, tuned as they are for the iPhone 4 and fourth-generation iPod touch's Retina displays.
Star Wars: Imperial Academy is a free download and requires an iPhone or iPod touch running iOS 3.0 or later.