As of Thursday, we are officially two weeks into the holiday season, enough to instill minor panic into even the most hearty of gift-givers. Thankfully, you can avoid offending your second cousin—and cut down your Christmas buying list—by substituting a gift for the time-honored tradition of sending over a holiday card.
Chances are, if you're a holiday card-making aficionado, you've had them printed, labeled, and prepped since Thanksgiving. However, for the rest of us, iPhoto '11 can help even the most craft-illiterate put together something special—without needing to put in hours of work. To get you started, here are a couple of tips to streamline the card-making process.
Choose a card type and theme
There are some great holiday card themes to choose from in iPhoto '11, but you won't be able to access all of them unless you've updated to version 9.1 of the program. If you don't have the latest version, you can download it by running Software Update or by visiting Apple's support Website.
Once you're properly updated, it's simple to choose a photo from your library and make it into a card. Just select the thumbnail of the image you wish to use, click the Create button in the lower right hand corner of the screen, and select Card from the pop-up menu. Alternatively, if you have several pictures you'd like to sample from, you can select multiple photos or a whole event. Once you've started a card project, you can also add more pictures to it at any time.
For better print quality, Apple recommends that your photos be at least 180dpi with a minimum 1300 x 928 resolution. If your photo's resolution is too low, you may see a yellow warning triangle when viewing your project. You can judge the final picture quality yourself by looking at the card in Full Screen mode or by previewing its full-size as a PDF (see the "Print your cards" section for more on previewing.)
After you select Card from the Create menu, you'll be brought into the carousel, which displays previews of card themes, sorted by type. In addition to the Folded and Flat (postcard-style) options found in previous versions of iPhoto, Apple has added a new category: Letterpress. Using old-world print technology, metal design plates are physically pressed into textured paper, giving your card a multi-dimensional debossed pattern. For $3 apiece, you can choose one of 12 holiday letterpress themes, customize it using photos and text (which are printed on the card flat), and then have the cards delivered to your doorstep.
You're not limited to Letterpress to spread the cheer, however: both Folded and Flat types feature an entire Holiday section to choose from, which you can access by mousing over to the arrow buttons directly under the card types and clicking to the right. You can purchase individual cards for $2 and $1.50, respectively, though both options have bulk pricing available. Most folded cards measure 5×7, while postcards measure 4×6.
Once you select a type, browse the different designs by clicking back and forth on cards or by using your keyboard's arrow keys. Each card type will display a preview of the design with the photo you've selected as well as some information about the card's dimensions, price, and alternate layouts, if there are any. For example, Folded and Flat cards can have their orientation landscape or portrait and color scheme changed. Once you have settled on a theme you like, click the blue Create button in the lower right hand corner to start customizing.
Customize your card
Once you've chosen a theme, you'll be brought into the card builder where you can type in your holiday greeting text. You also have the ability to change your card's layout (if applicable), color scheme, photos and photo size, and font type, color, and size. You can make changes to a card's individual elements by clicking on them and adjusting settings in the pop-up menus. Alternatively, you can click the Design button on the bottom of the screen and work in the resulting Design Options panel, which lists the various card attributes in detail.
Remove the Apple logo: By default, Apple places its logo and/or a "Made on a Mac" tagline along the back of each card. However, if you don't want your relatives to know you had help with your card, you can remove the evidence by un-checking the "Include Apple logo on back of card" option within the Design Options panel.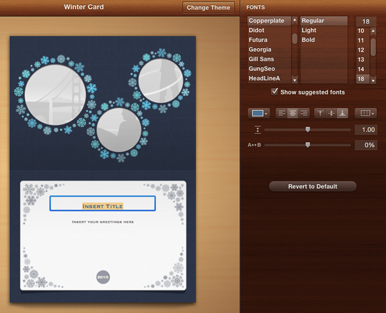 Find more fonts: If you select text on the card, the Design Options panel will alter to display available fonts, sizes, spacing, and colors. Initially, iPhoto will only display Apple's preferred system fonts, but if you un-check the "Show suggested fonts" box, you can gain full access to your font library.
Get more control over text: In the Design Options panel, you can add up to three columns for your text, change alignment, and alter letter or line spacing to make it easier to read (more space) or to fit in more text (less space).
Swap out photos: If your theme requires additional photos, or you decide you'd rather use a different holiday picture, click the Photos tab in the bottom right corner. Here, you can look at the pictures you initially selected for the project; photos you've already placed in it; photos you have yet to place; the last event you looked at; your last import; or the last 12 months of photos. If you can't find the picture you want to use in the browser, use the Source list to navigate to the thumbnail of the image or images you want to add, then drag and drop it on top of the card project you're working on, under the Projects tab.
To place a picture in your project, drag it from the Photos pane onto one of the photo spaces on your design. Once it's placed, you can drag and zoom the photo to center it appropriately.
Last-minute tweaks: Want to class up your card by turning a photo black and white? You can right-click (or control-click) a placed picture to open the Design Options panel, where you can add a simple black and white, sepia, or antique filter, and bring the photo into edit mode by clicking the Edit Photo button. Right-clicking on a photo will also give you the option of mirroring it, if you so choose.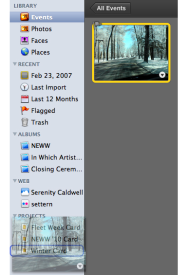 Use photos from synced web albums: You can also import photos directly from your integrated Flickr, Facebook, or MobileMe accounts, even if the original images aren't in iPhoto. Click the linked account you'd like to pull pictures from under Web in the Source list, then find the thumbnail you'd like to import. If you already have a card started, you can drag that thumbnail directly on top of the project; otherwise, you have to first drag the thumbnail to your Library, highlight it, then press the Create button—you can't build a card directly from a thumbnail within your sharing network of choice.
Start over: Don't like what you've come up with? You can Undo up to four changes, and even revert your text to its default font and size using the Design Options panel. Worst case, if you decide the card's theme just isn't working for you, the Change Theme button at the top of the browser will bring you back to the carousel. Any photos you've added will stay in the project—though you may need to lay them out again. Choose a new theme and click Apply to return to the card design page.
Print Your Cards
Once you've designed it to your liking, it's time to get your card ready for prime-time. First, make sure you're happy with your final design by previewing it in PDF or printed form. To create a PDF version of a folded or flat card, you can right-click anywhere in the project view to bring up two options: Save Card as PDF, and Preview Card. The first option will save a full-resolution copy of your card to your hard drive, whereas Preview Card will open up a full-resolution PDF in Preview or Acrobat for you to examine.
For whatever reason, Letterpress card designs won't show up using either Preview Card or Save Card as PDF; you'll see photos and text, but not the background color or pattern. Fortunately, there's a fairly simple work-around: go to File -> Print, click the drop-down arrow to the right of the Printer selection to access advanced options, right-click the PDF button in the lower left corner of the window, then click "Save as PDF…" to export the card preview to your hard drive.
Alternatively, if you'd like to see a tangible copy of your card design, you can print it to your home printer by going to File -> Print. Click the drop-down arrow to the right of Printer to see a full preview of how your card will print, as well as access advanced options. If you'd like to see how your card will fold and you have a printer that will print on both sides of the paper, make sure to choose "On" under "Two-Sided".

After you've finished making any last-minute changes, it's time to place an order for your cards using Apple's print-on-demand service. While in layout view, click the Buy Card button—found on the bottom center of the window—to enter Apple's checkout page. You'll be asked how many you'd like to buy, your zip code (to estimate tax), and whether you'd like standard or express shipping. You can purchase up to 999 cards per order.
Unfortunately, you can't mix and match card designs without placing separate orders which will mean additional shipping costs. You can work around this problem by choosing to print your cards yourself, but it's worth noting that buying your cards directly from Apple will net you specially designed envelopes that match your theme.
If you decide to go with a local printer or to DIY with your own printer to save on time and shipping costs, you'll want to first save a PDF to your computer. For the best-quality file, you'll want to mouse to File -> Print and right-click the PDF button, followed by "Save as PDF…" to export your card.
When to order your cards
If you're ordering holiday cards from Apple, you have until December 18 with standard shipping or December 19 with express shipping to get your package to your door by December 24. Remember, though, you'll still need to mail these cards out to friends and family members, so give yourself enough extra time for the signing, addressing, and sending. We recommend getting in your orders no later than December 14.
To get your cards to their destinations by December 24, you'll want them in the mail by December 20 at the latest—that's the USPS deadline for US-bound First Class Mail. Though if you're really running behind, you can send each card in an $19 Express Mail envelope on December 22 and still have them arrive in time. The USPS has full holiday deadlines up on its Website, if you're curious about international deadlines and alternative options.