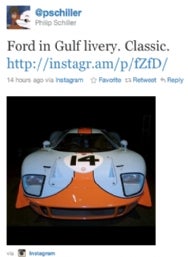 Twitter: it's not just for brief snippets of text anymore. The social network on Monday announced that it has expanded its integrations with third-party multimedia services. The company already offered hooks so that tweets containing links to services like TwitPic and YouTube could display embedded versions of those images or videos, and now that functionality has expanded to cover more than 20 media Websites and services.
The embedding features are part of what Twitter has dubbed its "#newTwitter" design, which mirrors much of the look of Twitter for iPad. Now, tweets with links to content from services like blip.tv, Rdio, SlideShare, and Dipdive will include that content when viewed in the #newTwitter design—enabling you to view such content without ever needing to leave Twitter's own Website.
If you click on a tweet that contains a link to the sites above—as well as links to YouTube, Flickr, Ustream, iTunes, and more—previews of the video, photo, or song become available on the right side of the screen.
One especially notable addition to Twitter's media list is Instagram, the iOS-only photo-sharing community. As in the example from Apple senior vice president Phil Schiller's Twitter stream shown above, tweets with links to Instagram now include the photos themselves.
If a picture—let alone a video or song—is worth 1000 words, than tweets are about to get a lot longer.