The Google eBookstore is the most recent entrant in the crowded e-book market, taking its place amongst such high-profile rivals as Amazon's Kindle Store, Barnes & Noble's Nook store, and Apple's iBookstore. But while the Google eBookstore certainly has a "Googly" design aesthetic, is it enough to convert e-book lovers to Google customers?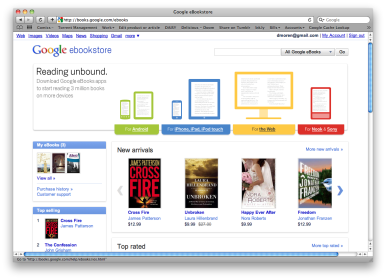 Downloaded an e-book in the last year? Then the Google eBookstore will look very familiar. You'll find a list of bestsellers, some graphics promoting different books, and a number of categories of e-books for your enjoyment. E-book pricing is in line with the emerging industry standard, ranging from free classics to about $10 for bestsellers and a couple of bucks north or south of that for back catalog books.
Each book's entry on the eBookstore showcases the cover, the author, a synopsis, reviews, and some bibliographic data on the book, including page count. You can view a sample of the book right in your browser, or click the "Buy now" button to purchase the e-book. When purchasing a book, either paid or free, you'll need a Google account, though you can browse the offers without logging in. Once you've decided to buy a book the payment is handled by Google Checkout.
Reading Google e-books
After buying an e-book (I bought The Poe Shadow ) it shows up in your library, which Google hosts "in the cloud" (i.e. on some server deep in the bowels of a datacenter somewhere). Google will host an unlimited number of Google e-books for you in your library, and you can group them together on virtual 'shelves,' though I couldn't actually figure out how to move an e-book from one shelf to another.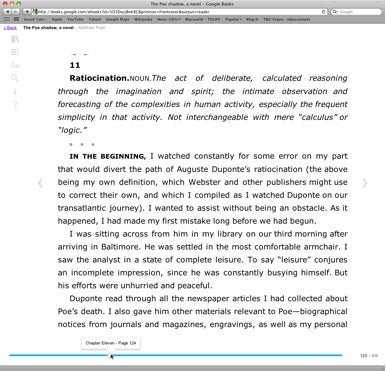 The library serves as the hub to your e-reading wheel, with a number of reading apps acting as the spokes. Google released a native Google Books app for the iPhone and iPad, as well as one for Android devices (the app is displayed as simply 'Books' on Android devices). In addition to the device-specific apps, Google's big differentiator—at least for a couple of months—is Google e-books for the Web, which allows you to read entire Google e-books in any JavaScript-capable Web browser. Amazon, however, has announced that Kindle for the Web will be available in "the coming months" and will offer much the same functionality for Kindle books.
All the apps (Web, iPhone, iPad, and Android) share the same somewhat limited feature set. You can control a number of text settings (font-size, typeface, line-spacing) as well as justification (left- or fully-justified). Full-text search is also standard, as is the most intriguing feature: scanned pages.
Thanks to the efforts of Google Books (not to be confused with the Google eBookstore), Google has scanned a large number of physical books. Google leverages this digital asset by including an option to display the scanned-in pages of a book instead of "flowing text," which is the default.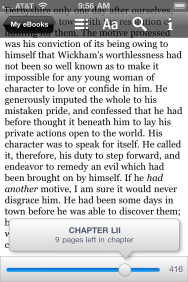 Google did give both the iOS and Android native apps some special features of their own. The iOS apps include a 3-D page-turn animation (which you can turn off) while the Android app has an option to set the brightness of the screen independently of the rest of the phone. Sadly, both the Android and iOS apps share another "feature" in common: slow load times. I encountered a little spinning loading icon a fair number of times on the iPad, iPhone, and a Droid X. Also missing from the mobile apps: landscape mode. You can only read e-books in portrait mode on these devices.
No matter which app you use to read your Google e-book with, your current place is automatically saved and synced across the various applications. There is no way to bookmark any other location in an e-book, nor can you highlight text, add notes, or jump directly to a certain page number—for the last, you have to use the timeline at the bottom of the screen and scrub to the page number you're after, a workable solution.
I don't think "open" means what you think it does
Google touts their eBookstore as "open" because you can read the e-books on a number of devices, including dedicated e-book readers. This is true, and I was able to load "The Poe Shadow" onto my Nook. However, what Google isn't so loudly proclaiming is why this is possible: the eBookstore's titles use Adobe's e-book Digital Rights Management.
In order to load a Google e-book onto a supported reader (the Nook and the Sony Reader are on the list, the Amazon Kindle isn't) you have to first install Adobe Digital Editions onto your computer (this runs on both Mac and PC since it is an Adobe AIR application).
After downloading Adobe Digital Editions you need to sign up for an Adobe ID. Once you have that all sorted you can download a copy of your Google e-book as either an ePub or PDF wrapped in a delicious coating of DRM. Once you have the file downloaded to your computer, add it to Adobe Digital Editions so it can authorize the book for your device. In my testing I wasn't able to get Adobe Digital Editions to recognize my e-book until I restarted, at which point five copies of the book showed up in my library. I was able to transfer one of them onto my Nook (via USB) and read the e-book without incident. Keep in mind, though, that e-books read in this manner will not sync their current location with Google.
Let a thousand Google eBookstores bloom
The most interesting aspect of the Google eBookstore aren't the apps, or the Web reader. Google has partnered with a number of indie book stores, including Powell's and Alibris, to sell e-books from the Google eBookstore directly from their own Websites. An intriguing idea to someone like myself, who feels a twinge of guilt every time I buy an e-book when I could be supporting my local independent bookstore.
Interestingly, the independent booksellers prices don't seem to match those of Google itself. Take, for example, The Girl Who Kicked the Hornet's Nest, part of the very popular Stieg Larsson series of books. You can purchase this e-book for $9.99 from the Google eBookstore, the Kindle store, and the Nook store. Now let's take a look at how much three independent booksellers are charging for the same e-book, via their partnership with the Google eBookstore: Alibris will sell it to you for $18.17, Powell's would like $24.81, and Joseph Fox Bookshop (a small indie in my hometown of Philadelphia) wants $27.95.
Despite the wild price fluctuations, I purchased a Google e-book from Powell's and it was a painless process. I selected the e-book I wanted, added it to my cart, and checked out. At the point of check-out my Powell's account was linked to my Google account (took less than a minute) and I was charged for the book. The e-book appeared in my Google e-book library, hosted by Google, and Powell's earned some money. Not a bad system, assuming the indies can figure out a good pricing scheme.
A good start to an interesting product
The Google eBookstore attempts to be an agnostic platform for e-books: buy your e-books and read them whenever you like (as long as it isn't on a Kindle). It is a good start, and an important vision, but not fully baked as of yet. At the moment I see very little reason to use the Google eBookstore if you own a competing store's hardware reader, or have a significant investment in one store's e-books.