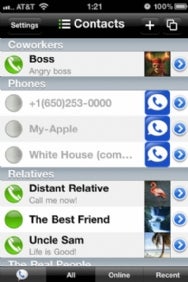 An application that lets iPhone users make and receive calls and chat messages via Google services has been updated with features to more closely replicate a normal phone-using experience.
Talkatone, an offering from TalkMe.IM, has allowed iPhone users access, via Wi-Fi and 3G, to both the Google Talk and Google Voice networks since its mid-November launch. Tuesday's update more prominently features the dial pad within the app, enabling users to easily make voice calls to landlines and cell phones. Users also now hear a dial tone when they open the dial pad, which is also displayed when users receive a call—letting them press 1 to accept a call or 2 to send it to voicemail. Incoming calls now feature caller ID, and users also get access to a list of their recent calls using Google.
Talkatone continues to feature backgrounding and local notification capabilities, so users can receive calls or IM messages even when their phone is locked or when they're using another app. The app can access users' Google contact list, as well as all their iPhone Contacts. Calls within the app are ad-supported, however; ads for Yellow Pages and Nissan were featured during phone calls we made today.
A Gmail or Google Apps account is required to use Talkatone. The app is free, and compatible with most Apple devices running iOS 4.0 or later; support is not available for the first-generation iPod touch.