Reader David Camp would like to use an iMac's display as a second monitor. He writes:
My wife's running an old iMac G5, and we'd like to move her to a MacBook Air. She sees my setup with a laptop and second monitor and wants to know if her iMac can be used as a second monitor.
Yyyyesss. I apply the extra consonants to indicate that while it's possible to project the image of one Mac's screen on another Mac, it doesn't work in a way you probably expect. What you likely want to hear is that there's a way to string a video cable between the MacBook Air and the iMac and have the iMac behave just like an external monitor. Regrettably, there isn't (at least not one that doesn't require a soldering iron and far more skill than I possess).
Rather, you use VNC (Virtual Network Computing) over a network to place the image of one Mac's screen on another screen. Specifically, try Patrick Stein's $30 ScreenRecycler ( ).
It works this way: Make sure that both Macs are on the same network. Install ScreenRecycler on the MacBook Air (the Mac you want to project to the other Mac). You'll be told that you need to install a driver—go right ahead and do that and restart your Mac when prompted. Launch ScreenRecycler on the MacBook Air after the restart.
On the iMac (the Mac you'll use as the display) launch a VNC client (a trial copy of Stein's $40 JollyFastVNC is included). ScreenRecyler will tell you the address to use for your connection if it and the VNC client don't automatically connect over Bonjour. If needed, enter that address information into the VNC client and, in short order, you should see an image from the MacBook Air appear on the iMac's screen.
Open the MacBook Air's Displays system preference. You should see two monitors represented—the MacBook's display and the ScreenRecycler display (which appears within the VNC client window on the iMac). You can now arrange the position of these displays by dragging the second one into the proper position (to the right of the main display if the iMac sits to the right of the MacBook Air, for example). It's likely that you'll also have to adjust the resolution of the ScreenRecycler display. You do this within the Scr.Recycle1 window that appears on the MacBook Air's screen.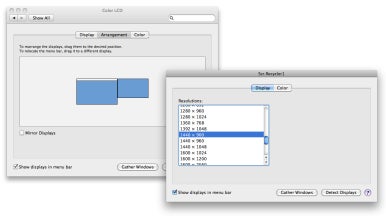 Now to the important point: How's the performance? Tolerable, depending. And by that I mean that there is very definitely a lag between one computer and another. The severity of that lag depends on the speed of your network. That lag will produce artifacts on the iMac's display when you move objects on that screen. For this reason, I'd maintain the MacBook Air's screen for objects that move a lot—windows that display movies or you use for photo editing. The iMac can work as a place to throw program palettes or documents you want to read rather than extensively work with.
I'm an advocate of the multi-monitor setup—I use two 23-inch monitors with my Mac Pro. Having become accustomed to such a responsive setup I'd find ScreenRecycler's lag distracting. But you may not. Give the demo a try and see what you think. If it doesn't appeal to you, browse Macworld's Monitors page where we recommend monitors for every budget.
Note: When you purchase something after clicking links in our articles, we may earn a small commission. Read our affiliate link policy for more details.