You have plenty of choices when it comes to word processing software, but the most obvious (and popular and ubiquitous) of those choices are Microsoft's Word 2011 ( ), Apple's Pages '09 ( ), and Google Docs.
Back in 2008, we compared the then-current versions of Word and Pages, by using both to create a basic business newsletter. Now that we have a new version of Microsoft Office, we thought we whould revisit that comparison. Note that, when Apple issues a new version of its iWork suite, we'll update this comparison to take the new Pages into account.
The task we chose for our comparison: Using a template provided with each application, create a simple two-page business report. (To put the three programs on relatively even footing, we did not use Word's Publishing Layout mode.) The reports included a simple graphic, a table, a single graph using data from an external spreadsheet, a text callout, and a couple of different paragraph styles.
All three programs handle basic word processing chores—creating, editing, and applying basic formatting to text—just fine. It's only when you get beyond those basics—using templates, applying styles, and adding things like tables and graphics—that the differences begin to appear.
Beginning with templates
Word, Pages, and Google Docs all offer a variety of document templates that you can use as starting points for documents. But the number and quality of these templates vary considerably.
Google Docs offers by far the largest selection of templates—literally thousands. But, since many of these templates are created by other Google Docs users, their quality is pretty poor. In fact, it took me a good 20 minutes to find a single template suitable for the task at hand.
Word offers the best selection of high-quality templates, for several different types of documents. Some of those templates come bundled with the program, others are available via download. The downloadable templates include some from professional designers.
Word 2011 also provides themes—customizable palettes of fonts, colors, and paragraph formatting, which can be applied to any number of document types and which can therefore make different documents (envelopes and brochures as well as letterhead and reports) visually consistent. Word ships with over fifty of these themes, but you can also customize them and create your own. Neither Pages nor Google Docs has anything like them.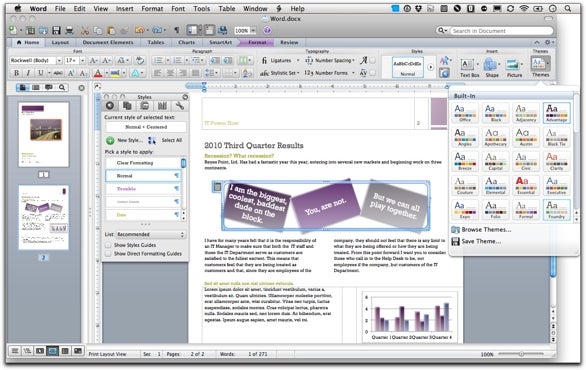 Of the three programs, Pages has the fewest templates. For example, it offers ten report templates, only one of which is explicitly for business. (Others are for things like school reports and term papers.) If you're looking for a broader selection of Pages templates, you could consider Pages Templates 6.0 or check out iWorkCommunity where you'll find templates designed by other Pages users.
But Pages' templates do offer one distinct advantage over both Word's and Google Docs': All of them include extra "sections"—Cover, Text Page, Appendix, and so on in the Business Report, for example—that you can add to your document; by comparison, Word's report templates only contain two pages each. After you add sections to a document, you can then rearrange them easily (View -> Page Thumbnails); you can't do that in Word or Google Docs.
Working with styles
Both Word and Pages provide good tools for creating and managing paragraph styles; Google Docs doesn't. Google Docs does have styles—seven of them, in fact: Normal Paragraph Text and six levels of headings. In previous iterations of Google Docs, you could augment paragraph styles by futzing with CSS, but that capability has been removed.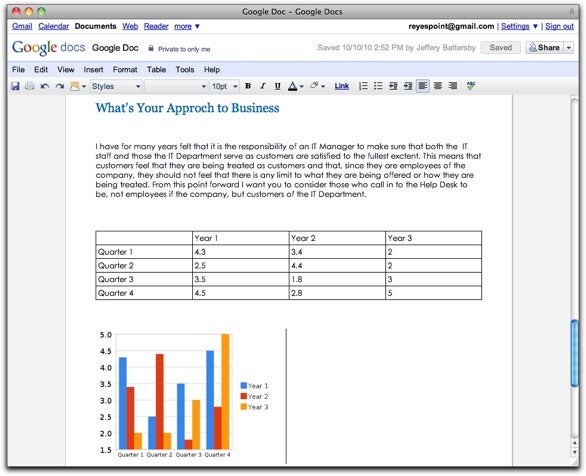 Word and Pages, on the other hand, excel at working with styles. In both programs, you can apply a style, then change it and save it as a new style; changes you make a given style in one place will apply automatically wherever that style is in use.
Pages makes the process of customizing styles slightly easier than Word. In Pages, you modify an existing style then, in the Styles drawer, select Create New Paragraph Style or Redefine Paragraph Style from a drop-down menu. In Word, you select some styled text, then use the Styles section of the Ribbon to select a new style; but to modify the current style, you have to open the Styles toolbox, open the current style and make your changes from there. It works well, but does take some time to get figure out.
Images and graphics
Pages is by far the best of all three programs when it comes to inserting and manipulating images, tables, graphs, and other objects that aren't text.
That said, Word 2011 is much better at handling objects than its predecessor, Word 2008 ( ); while it still isn't perfect or as good at Pages, it's not impossible to use either. The Ribbon helps: There are specific sections devoted to tables and charts. To insert images, you open the Media Browser, which gives you access to iPhoto, iTunes, and other media libraries on your Mac; there's a built-in image editor that lets you manipulate images you've inserted.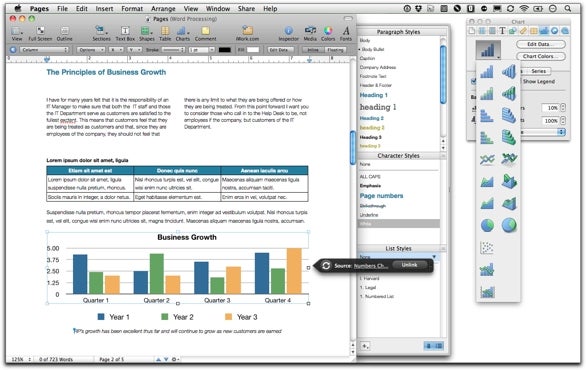 Again, Google Docs lags way, way behind Word and Pages in this regard. While you can add images and other objects to your documents, you're limited to adding them inline with your text. While you do have some text-wrapping options, there's no way for you to place an image, table, or chart in a specific location in your document and have it stay there.
Finally, both Pages and Word offer easy ways for you to add tables and charts into your documents. In both cases, those charts can be created from data stored in external spreadsheets. Charts and tables can be formatted and moved anywhere in your document, and when you change the data in your spreadsheet, those changes will show up in your Pages or Word document.
Google Docs offers no tools for making charts—even one based on data in a table in the same document—and no way to link to data or a chart created in Google's spreadsheet program. Your only option is to create a chart in a spreadsheet program, export it as a .PNG file and then insert that graphic into your document. Of course, if the data in the original spreadsheet changes, you'll have to create and insert a new graphic.
The final word
So, what's your best choice in a word processing tool for creating business reports and other moderately sophisticated documents? Pages and Word both do the job well. If you want a unified visual look across all kinds of documents, Word has some advantages (thanks to its templates and themes). Pages is much better at handling things like charts, tables, and images. Google Docs might be fine for editing documents in the cloud, but it's comparatively useless when it comes to anything beyond the most basic word processing chores.
Are there other word-processing apps we should cover in the future? Let us know in this forum thread.
[Jeffery Battersby is is an Apple Certified Trainer, actor, and regular contributor to Macworld. He writes about Macs and more at his blog, jeffbattersby.com.]
[Updated at 9:43 a.m. 12/9/10 to correct editing error re: Google Docs and CSS.]