Code 42 has released version 3.0 of its CrashPlan+ online backup utility, adding new options that offer users increased flexibility for their backup schemes. The company has also announced new, lower prices for its online backup destination, CrashPlan Central.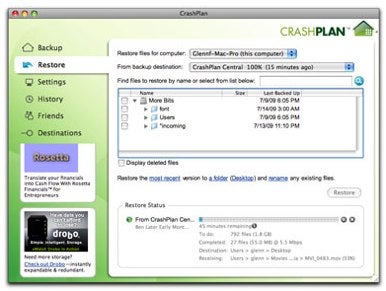 CrashPlan+ is a comprehensive backup utility that automatically backs up your computer's data to other hard drives, other computers on a local network, or to Code 42's CrashPlan Central online backup facility. The new CrashPlan+ 3.0 offers increased flexibility for your backup preferences, letting you create multiple backup sets and specify which files go to which locations and with what settings.
The ability to mix and match destinations with different backup settings is ideal for those who require more complex backup scenarios. For instance, you might want extremely critical files and documents to be backed up every five minutes to both an external hard drive and an online server, while your less critical data might only need hourly backups to just the online server.
Other new features in CrashPlan+ 3.0 include flexible scheduling of the dates and times that backups occur and the ability to scan and verify the files in your backup files selection on demand.
CrashPlan+ is free to download, but if you want to store backups online, you'll have to subscribe to CrashPlan Central, which charges an annual fee of $25 for a 10GB plan, $49 for a single user unlimited plan, and $120 for an unlimited plan for every user in a household.