Namco will be forever known for its inimitable contributions to the "Golden Age" of video gaming, creating some of more classic arcade titles in history, like Pac-Man, Galaga, Dig Dug, and Tekken, to name a few. It was also the first company to build a multiplayer, multi-cabinet game with Final Play in 1987. Their legacy as a pioneering game developers is undisputed; as is true of many of Namco's games, Splatterhouse left an indelible impression on early arcade gamers. Released in 1988, the game had a reputation as one of the first great gory, beat 'em up arcade titles. Recently, Namco released a $3 port of their classic game, but, unfortunately, the results are underwhelming.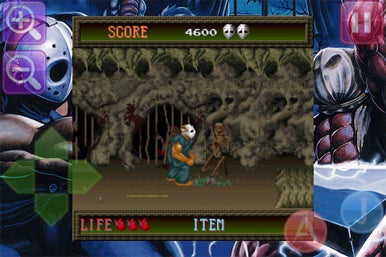 Nostalgia alone may be reason enough to add this game to your playlist, as many of the elements of the original game are present in this faithful port. Like the original, in this sidescrolling zombie-masher, you will control Rick, a hockey-mask wearing parapsychology student, who is trapped inside West Mansion. After his resurrection by the "Terror Mask," Rick wanders through the haunted mansion, fighting off zombies and other evil creatures of the night using two-by-fours, cleavers, and shotguns all in an effort to save Rick's girlfriend, Jennifer. The things we do for love. Yet, to the game's detriment, there's no introduction or montage to initiate new fans to the strange and macabre storyline.
As the original game paid tribute to '80s horror films, its shock and gore value were high – actually, high enough to get it pulled from many American arcades. Though these nostalgic elements are still present, the most shocking part of mobile Splatterhouse is the lame gameplay and shoddy controls. To begin with, the speed of the gameplay is remarkably slow, as you practically tip toe from left to right, engaging your opponents in one of three attack modes: standing attack, ducking attack, and jumping attack. As for the opponents themselves, there is little variety in their attack patterns, and the end-of-level bosses have three patterns — at most. Though memorable, the bosses simply require you to memorize their attack pattern, finding the safe spot to stand, then smacking them on the head. It gets repetitive pretty quickly.
As combat relies on your ability to quickly and accurately attack your opponents from crouching and jumping positions (as the beasties approach from both sides), the responsiveness of the game's d-pad is fairly important. Unfortunately, the controls are glitchy and often incapable of performing up to task. When selecting a direction to move, the button fans out, making it difficult to crouch while attacking or to change the direction of that attack.
Arcade Mode is a direct port of the original, so you're forced to use the classic 4:3 ration screen, which can be zoomed to three different degrees, yet each size is uncomfortable. Personally, i found that I was always either squinting or obscuring half the screen with my fingers.
"Splatter Rush Mode" is a new addition to Splatterhouse and almost redeems the iPhone version of the game. This new mode providing players with an elongated level and fixed zoom, as well as three difficulty levels (each with its own unique backdrop and type of enemy), in which your enemies rush you from either side of the screen. Your goal is to kill as many of them as you can in two minutes. When time expires, or you expire (whichever comes first), your stats are tallied and can then be uploaded to Game Center for leaderboard competition.
Splatter Rush Mode is a lot of fun, but it still suffers from the same control issues that beset Arcade Mode. The 20-year-old gameplay is repetitive and slow, though for some this will be part of the nostalgic fun. If you were a fan of the original, it's worth shelling out the $3, for everyone else, I'd recommend getting your zombie-bashing kicks in elsewhere.
[Rip Empson is a frequent contributor to Macworld.]