As 2010 draws to a close, one fact remains: despite some exciting discoveries, this wasn't the year we made contact. Still, it's the end of a year—and a decade—so of course it's the perfect time to look back and reflect. If you're having trouble remembering just what we were up to this year, let Apple help: the company published its iTunes Rewind for 2010, recapping the top music, TV shows, apps, movies, audiobooks, and podcasts of the year.
While we'll leave it to you to browse and argue over the accolades iTunes has bestowed in the media categories—nothing for FX's Terriers? Disappointing!—much of this year's attention went to an arena very near and dear to our own hearts: apps.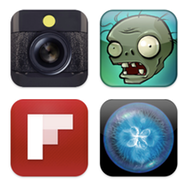 Apple gave out awards for both the best iPhone and iPad apps as well as the best iPhone and iPad games. For the iPhone, the clever photo app Hipstamatic took home top honors, with the popular Plants vs. Zombies nabbing game of the year. On the iPad side, the innovative RSS reader Flipboard walked away with the gold, and Osmos for iPad was deemed the game of the year for Apple's tablet device.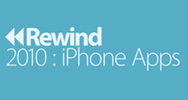 This year, for the first time, Apple also identified some trends among mobile apps, picking more than a dozen themes for each device and assembling related app collections. For the iPhone, that included apps that let you shoot and share pictures ( Path, Instagram, and more); augmented reality apps like Star Wars Arcade: Falcon Gunner and Peak.ar; cloud apps such as Dropbox and Elements; quick fix games like Cut the Rope and the ubiquitous Angry Birds; and, of course, zombies.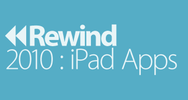 If you were wondering what iPad users were up to in the eight months since the device's release, they were making art and music with Uzu and Aeolian Harp, keeping up with the news using 60 Minutes and Pulse, being productive with the likes of Evernote and iA Writer, playing Flight Control HD and Fruit Ninja HD, and reading magazines like The Economist and Wired.
Finally, Apple also revealed 2010's top downloaded apps, both free and paid, as well as the top grossing apps for both the iPhone and iPad. Among paid apps for the iPhone, games were the order of the day with Angry Birds, Doodle Jump, and Skee-Ball taking the podium; the top three downloaded free apps on Apple's phones were Facebook, Angry Birds Lite, and Words with Friends Free (VoIP app Skype came in at fourth place). And the moneymakers won't surprise anybody who's talked to a few iPhone owners: sports app MLB.com At Bat 2010 managed to edge out the games, followed by Angry Birds again, and the fearsome Call of Duty: Zombies.
Interestingly, tablet users were actually less focused on games and more on productivity: iPad users paid for Pages, GoodReader for iPad, and Numbers (with a little relaxation in the mix, courtesy of the fourth-place Angry Birds HD); free downloads were dominated by media apps like Apple's iBooks, Pandora, and Netflix. And Apple had a clean sweep of the top three highest grossing apps with the entire iWork trio: Pages, Numbers, and Keynote.
Apple also broke down the most popular apps for iPhone and iPad in each of its store categories—but don't worry, I'm not about to recount them all here. Overall, it's a fascinating snapshot of what the average iPhone or iPad users are doing on their devices, a reminder of just how complex and capable our technology has become, and a round-up of great apps to try out, if you haven't already.