Infinity Blade, a visually rich action-RPG for iPhone and iPad from Epic Games, is ready to do battle in the App Store.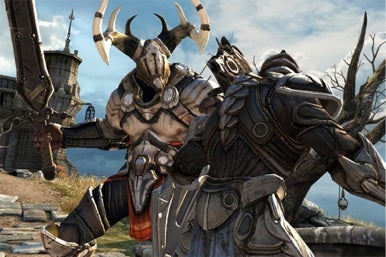 First previewed at Apple's September Music Event under the code name "Project Sword" and released as a free demo code named "Epic Citadel," Infinity Blade challenges you to fulfill your birthright and free your people from the tyrannical rule of the God King. You must explore the Dark Citadel, upgrade your skills and weaponry, and fight a line of Titans before facing the vile God King himself.
Infinity Blade isn't a fully open-world game like, say, World of Warcraft or Diablo. But you can explore the castle by navigating between specific areas and collecting treasure, weaponry, and new magical items. In order to dispatch the God King's minions, you can use smart timing and touch gestures to attack, dodge, block, and cast spells. You can also test your might against your friends, as Game Center integration brings achievements and leaderboards.
When Infinity Blade was previewed as a demo at Apple's September event, it turned the heads of just about any warm-blooded gamer due to its strikingly rich visuals. The game is powered Epic's Unreal Engine 3, which began public life as a high-powered engine for desktop and console games like Unreal Tournament 3, Gears of War 1 and 2, and others. Now that Epic has ported its powerful engine to iOS, the company says Infinity Blade is only the first in a line of games for Apple's mobile devices to be built with it.
Infinity Blade is available now in the App Store for $6 and requires iOS 3.2. It's also 318MB, so be prepared for a long download. It's a universal app for iPhone and iPad, though it only supports recent hardware like the iPhone 3GS and 4, the 3G and 4G iPod touch, and the iPad.