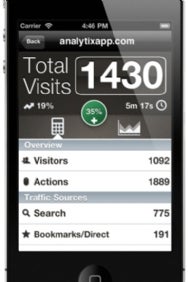 Webmasters who want to track their site's performance on a real-time basis have a new iPhone application to help them out.
Analytix, from developer Steve Reynolds, made its debut Wednesday in the App Store. The app gives users a quick overview of their site's Google Analytics data, displaying the number of visitors and searches that landed on their Web site and giving them the ability to drill down to get fuller views of important information. The app's chart option lets users compare data over selected time periods and measure their site's rate of growth.
The app works directly with Google Analytics' API, Reynolds says, with no third-party servers creating the possibility of lost or stolen data. In a Twitter post on Thursday, Reynolds promised that a "massive" update to Analytix is already in the works.
Analytix costs $2, and is compatible with any iPhone, iPad or iPod touch running iOS 4.0 or later.