Plasq on Thursday released Comic Life 2, giving you new ways to immortalize your vacation or spark your next Internet meme using Whizbang and introspective thought bubbles.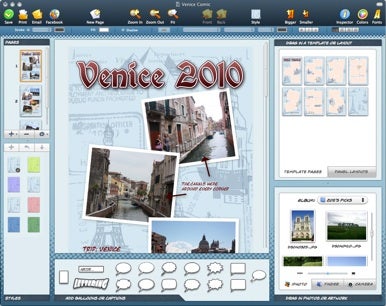 Comic Life 2 is more or less the Pages of creating comics on the Mac, albeit with a quirkier interface design. You can lay out panels on your own or start with one of the built-in layouts, drag over photos from iPhoto, sprinkle in some dialog, and share your gripping story with friends and the world.
This big upgrade adds plenty of new perks, such as complete templates featuring backgrounds as well as visual color and type themes. You can customize the included templates or create your own, and support for styles lets you change one object and quickly apply your alterations to other similar objects. Uniform image filtering lets you apply the same customizations and filters to all the photos you use, and advanced balloon tail controls let your content and balloons coexist peacefully.
New smart-shape and free-form shape drawing let you create just about any shape you want. Custom shapes can be converted into panels to add some flavor to your layout, and other new tools like a gradient designer and format bar allow for yet more of your custom style to shine through. Finally, Comic Life 2 gained a fresh interface update and the ability to share your creations via Facebook in addition to existing support for iPhoto.
Some of Comic Life 2's new features—such as templates, powerful illustration tools, and a photo editor—overlap with Comic Life Magiq, Plasq's "pro" version that brought additional features above and beyond Comic Life 1. Plasq CEO Robert Grant told Macworld via e-mail that Comic Life Magiq is indeed scheduled for its own upgrade—just as soon as the company finishes Comic Life for iPad, due out in 2011.
Comic Life 2 is available now as a free demo that requires Mac OS X 10.4.11 Tiger or later. Single licenses cost $30 and family five-pack licenses are $45, while upgrades for previous owners are on a limited sale for $10 and $20, respectively.