This week's roundup of new iPhone cases is chock-full of themed cases. From Drive Industries' Hawaiian-themed offerings and E-Panda's panda-themed bamboo wonder, to iSound's Sesame Street collection and Gear4's Angry Birds cases, it would seem that themed designs are where the money's at these days. I guess the original theme of "it protects your iPhone" no longer turns heads like it used to. Not that I'm complaining—I mean, who wouldn't want an Angry Birds iPhone case? Read on to see if any of these cases might suit your fancy.
Drive Industries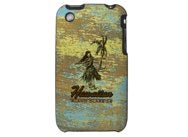 If you find the iPhone case market to be sorely lacking in Hawaiian-themed products, Drive Industries is here to help. The Hawaiian-themed apparel designer has teamed up with case maker Speck and custom product producer Zazzle to release a new line of hardshell cases for the iPhone 4 ($43) that boast tropical artwork. The line offers a selection of over 200 designs ranging from tropical flowers and pare prints, to surfboards and retro surf designs. The fitted, rigid-plastic cases are covered with an easy-to-grip fabric on which the designs are printed using Zazzle's digital printing technology.
E-Panda
E-Panda has a new Panda-themed iPhone case ($55) made of—you guessed it—bamboo. The handmade case will protect your phone from bumps and drops, and is 100-percent natural, eco-friendly, and biodegradable. It also sports an adorable panda face engraved on its back, which makes this case a sure-fire winner in my book.
Gear4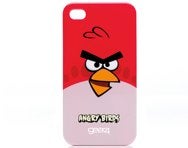 We previewed Gear4's new Angry Birds-themed cases a few weeks back, but now it's official: The Angry Birds iPhone 4 cases ($25) are available for order! The hard-plastic cases offer impact protection and access to all ports and controls, but most important, they feature graphics of your favorite characters from the popular Angry Birds iOS game.
Gumdrop Cases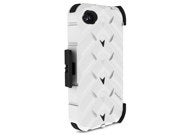 Gumdrop Cases' Drop Series ($45) is designed to withstand nasty falls while leaving your iPhone 4 as handsome as ever. It does this by encasing the phone in multiple layers of protection, including screen and port covers. Reinforced rubber bumpers on the corners provide a final layer of shock protection, while a heavy-duty belt clip lets you keep your phone handy at all times.
Incase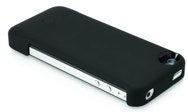 If you often find yourself draining your iPhone's battery before the day's end, a battery case could be the remedy. Incase's Snap Battery Case for iPhone 4 ($60) is an integrated case and power solution that increases your phone's battery life up to 40 percent. Precision-engineered for maximum slimness, the Snap Battery Case's 900mAh battery and tough, hardshell construction should keep your phone well-protected and juiced up wherever you may roam.
Incipio
Incipio's Dotties Silicone Case ($30) is made of high-density silicone and features a unique, perforated design that lets you decorate the case with colorful dots using whatever color scheme suites your fancy. The case comes in eight different core colors, each with its own slew of colored "dotties."
iSound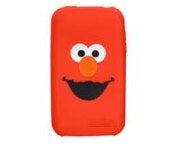 Given the widespread popularity of smartphones, it's no longer uncommon to see a wee child with their own iPhone. iSound has teamed up with Sesame Street to provide Sesame Street-themed cases for these lucky children. The officially licensed Sesame Street silicone cases ($15) provide form-fitting protection and are available in a blue Cookie Monster theme, or a red Elmo theme.
USBFever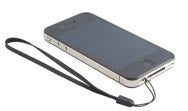 Your cheap point-and-shoot camera has a hand strap to prevent drops, so why doesn't your iPhone 4 have one? Thanks to USBFever's Custom-Made Hand Strap for iPhone 4 ($10), now it can. The hand strap comes with a DIY kit that lets you attach a hand strap to your iPhone 4 in mere minutes. All you need to do is use a provided mini-screwdriver to replace the screw at the bottom of your iPhone 4 with USBfever's hand-strap-adorned screw, and you're off to the races!