At a Glance
Expert's Rating
Our Verdict
Herald lets you monitor incoming e-mail messages while you work in other programs.
Back in 2007, I reviewed MiniMail, a clever utility that lets you shrink Mail's main window down to a tiny version reminiscent of iTunes' mini controller. This downsized window shows previews of incoming e-mail messages and lets you perform common actions on those messages, making it useful for keeping tabs on e-mail while working in other programs. While the latest version of MiniMail works well in Mac OS X 10.6.5, there's a similar—and free—alternative, Herald, that some people may prefer.
Like MiniMail, whenever new messages arrive, Herald's floating window lets you preview those messages. However, unlike MiniMail, which is essentially an actual Mail window—meaning that if you hide Mail, the MiniMail window is hidden, as well—Herald's message-preview window can stay on the screen at all times, even if Mail itself is hidden.
While MiniMail provides controls for browsing all newly received messages, Herald lets you interact with each new message only once, making you decide right then and there what to do with it: After scrolling through the entirety of the message, if necessary, you use buttons along the bottom of the Herald window to delete the current message, mark it as junk, view it or reply to it in Mail, or simply acknowledge it. This last option, which can also be performed by clicking anywhere in the message preview, simply clears the message from the window—leaving it, still marked as unread, in Mail itself. (Herald shows only messages received since you last viewed Mail's main window, and once you've acknowledged a received message from within Herald, you'll have to switch to Mail to view that message again. In other words, whereas MiniMail is essentially a miniature version of Mail, Herald is basically a way to triage incoming mail.)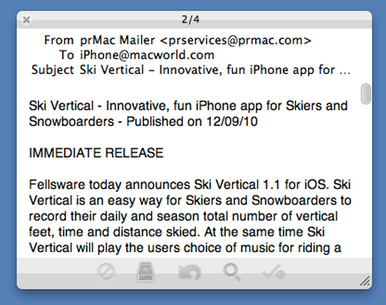 In Herald's preferences—accessible from within Mail's own preferences window—you can choose not only which accounts, but which mailboxes within each account Herald should watch. For example, you can have Herald ignore most messages, but notify you when you receive mail from your company's domain. (To perform this trick, you'll need to set up a mailbox in Mail for work-related messages and use a Mail rule to automatically file incoming work messages into that mailbox.)
You can also choose whether Herald's preview window appears only when Mail itself isn't the active program, or if it should be visible all the time; whether Herald's window disappears automatically after a set amount of time, or only when you dismiss it; and, if you're using OS X's Spaces feature, whether Herald appears in all workspaces or in only the space in which Mail appears. Finally, you can choose your preferred window-background color, as well as the text color, size, and style. (I find the default scheme—tiny white text on a semi-transparent black background—to be a bit difficult to read.)
One minor complaint I have with Herald is that when you "acknowledge" the last newly received e-mail message, the Herald window disappears, and it doesn't reappear until another new message arrives. This makes sense, as you've dismissed Herald to get back to what you were doing, but it still feels as though you've "lost" the Herald window. I'd personally prefer an option to keep Herald's window visible unless I specifically close it. Similarly, I wish Herald would let me skip over a particular message without being forced to "triage" it right then and there.
Herald doesn't offer as many features as the $13 MiniMail, but if you mainly want a way to get useful message notifications and basic message-handling features, Herald is a good free alternative.
(Like MiniMail, Herald is a Mail plug-in. Keep in mind that because Apple doesn't officially support Mail plug-ins, there's a good chance that the next time the company releases an update to Mail, any third-party plug-ins you have installed will stop working. You'll have to wait for the developer of each plug-in to release a new version compatible with the updated version of Mail.)
Want to stay up to date with the latest Gems? Sign up for the Mac Gems newsletter for a weekly e-mail summary of Gems reviews sent directly to your Inbox. You can also follow Mac Gems on Twitter.