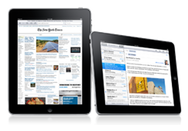 Many thought that the iPad would save journalism—but, as it turns out, you can't save journalism without breaking a few eggs…wrapped in newspapers. A survey by the Donald W. Reylonds Journalism Institute (RJI) at the University of Missouri found that the iPad could have a deleterious effect on print newspapers, with many iPad users being likely to axe their print subscriptions in favor of consuming news on their tablets.
The survey talked to more than 1600 iPad users, who were mostly well-off men with bachelor's degrees, averaging 48 years old. News, for these folks, is serious business: 84.4 percent of respondents said that following breaking news and current events was one of the main tasks they used the iPad for, with almost half of those surveyed saying they spent an hour or more reading news on a typical day. Other popular pastimes were reading books, magazines, and newspapers; browsing the Web; and e-mail.
Now that we know that a burning thirst for knowledge is what consumes these folks, let's get to the interesting statistics: 93 percent of those who read an hour or more of news a day said they were at least somewhat likely to use an app over browsing to a newspaper's Website. (Roughly the same is true of those iPad users who weren't as diligent a newshound.)
And while the regular consumers of news tended to do so in digital and print forms, the more they use the iPad, the less they tend to read printed newspapers. Here's where print media gets the bad news, if you'll pardon the expression: 58 percent of respondents who subscribe to print newspapers and spend more than an hour a day reading news on their iPad said they were very likely to cancel those print subscriptions in the next six months. In fact, around 10 percent of respondents reported they had already canceled printed newspaper subscriptions.
What drives this shift? Many users rated the experience of reading on the iPad either slightly better or roughly the same as reading print media. And, as you might expect, older readers are the culprits clinging desperately to their daily publications with newsprint-stained hands: according to the survey, the older a user was, the more likely they were to compare the iPad reading experience unfavorably with that of print (though better, it seems, than reading on smaller-screened devices like iPhones). Of course, given that eyesight also tends to degenerate with age, that's not exactly shocking.
But, when posed an open-ended question about what would drive users to plonk down their money for digital news over print, the most oft-mentioned factor was decidedly practical: "a price lower than the price of a print subscription." This seems to get to the nub of the issue: one of the factors favoring digital news consumption over print media is the fact that, by and large, digital news is available for cheap or, more often than not, free. Among readers' other desires for their digital news were content parity with the print edition and easy-to-use and reliable applications.
Who's closest to this digital news nirvana? The answer isn't particularly surprising: according to the respondents, it's high-profile publications including The New York Times, USA Today, The Associated Press, and The Wall Street Journal. Of course, these are also among the most prominent organizations, with the most substantial budgets and the best ability to withstand losses over the short-term as they investigate the old alchemical dilemma of how to turn eyeballs into money.
So, is print media's goose cooked? Naturally, one survey does not a future make, but it's clear that the industry has some challenges ahead of it. Don't worry too much, though: your local newsstand isn't likely to become a barren wasteland any time soon; not, at least, until the publications figure out how to bring in money to offset those dwindling subscriptions—or die trying.