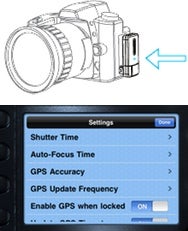 For many casual photographers, the iPhone has become a viable replacement to point-n-shoot cameras, or at least a handy alternative when opportunity knocks. For professionals, gadgets like XEquals's new BlueSLR location-aware remote can make the iPhone, iPod touch, and iPad essential companions.
BlueSLR is actually a tag-team product comprised of a Bluetooth attachment for your DSLR and an iOS app that runs the show. Plug the attachment—about the size of two USB flash drives—into your compatible camera, install the free app on your iOS device, and you can then control your camera's shutter, focus, speed, and time with your iPhone or iPad—supposedly, from up to 300 feet away, depending on your iOS device.
You can also use your iPhone to wirelessly add geolocation metadata to your photos including latitude, longitude, and elevation. That means when you uploading those photos to a service like Flickr, Picasa, MobileMe, or iPhoto, the metadata will let you plot your shots on a map.
BlueSLR is by no means the first attempt at driving a DSLR with iOS devices. But most solutions, such as DSLR Camera Remote and Remote DSLR Camera Control, require that you tether your camera to a Mac or PC and install a remote control listening utility. BlueSLR may provide some photographers, especially the traveling kind, some convenience and freedom from lugging around an extra notebook for photo shoots.
XEquals plans to start shipping The BlueSLR on December 20. At launch, the company will offer three models that are compatible with about a dozen recent Nikon cameras, including the D5000, D90, and D200—models that support Canon cameras are coming soon. The BlueSLR device is $150 regardless of camera model, while the iOS app is free and requires at least an iPhone 3G, a second-generation iPod touch, or an iPad.