Music fans who want to marry their song library to the power of the Web have a new potential union available: WebTunes, a program that lets users play their iTunes library through their browser.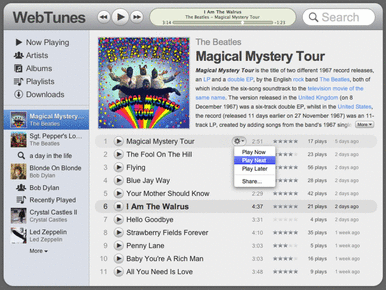 Though it provides a Web interface, WebTunes is actually a program that you install on your home computer. Once set up, it automatically connects to your default browser, which in turn opens iTunes and displays the artists and albums in your library—not in a grid or list, like Apple's program, but in a "cloud" formation that displays your most-played music most prominently. (It's also worth noting that you can't close iTunes while WebTunes is running on your browser; try, and iTunes will restart automatically.)
WebTunes also displays a Wikipedia entry for the artist you're hearing—although this is an imperfect feature: It displayed an entry for "The Clique Series" of young-adult novels while we played a song by The Quick & Easy Boys.
The program also offers links to the artist and their music through Last.fm, AllMusic, Google, and the iTunes store. A feature that lets users share information about their music via social networking services is still unavailable. And despite giving you Web-based access to your iTunes library, the program doesn't appear to let you use a browser on one machine to remotely listen to your music hosted on another, something that would make the concept more compelling—though probably also more contentious.
WebTunes is free and compatible with Macs running OS X 10.5 or later. A Windows version is reportedly in development and will be available soon.