When DevonNote 1 was released, DevonTechnologies' note taking and data organization program strengths were in its ability to import and organize text and Web bookmarks. With DevonNote 2.0.6, new features include support for Quick Look previews in OS X 10.6, Google's Chrome Web browser, and Yahoo! Messenger chat transcripts.
DevonNote essentially is a repository for blocks of text. That text can be plain and unformatted, or it can be Rich Text Format (RTF). A few templates are offered to simplify creating and storing things like passwords or to-do lists, but feature-wise, the templates are no different from regular text entries. The other type of record DevonNote handles is the URL. The software has a built-in browser based on Apple's Web Kit technology, so if a site works in Safari, it should work in DevonNote, too.
Populating DevonNote with your data happens one of three ways. You can create a new blank URL or note, create note based on a template, or import. I imported a few hundred bookmarks from Safari and Firefox and a few thousand files from a regular file on my hard drive. Each operation took under a minute and DevonNote retained the folder hierarchy of the source information.
Finding your way around DevonNote should be familiar to anyone who has used the multi-pane interface pioneered in iTunes. Your library appears down the left side of the window with the various folders and subfolders the items have been grouped into. The window's right column lists each item in the folder or group currently selected from the library on top and the contents of the selected item just below that. It's an easily grasped design pattern that DevonNote executes well.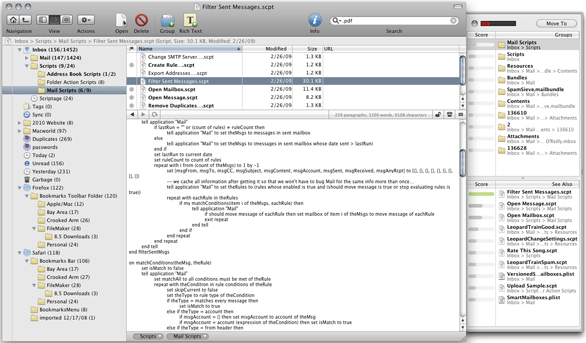 While it handles text and URLs with aplomb, I found a few of DevonNote's limitations to be frustrating. When importing, say, a folder that contains a Website, DevonNote will dutifully import text files such as HTML, JavaScript, and PHP. However it will ignore media image files like images or QuickTime movies. This is particularly annoying given that the program can use Webkit to display them. DevonNote won't import a folder of PDFs, but if you manually add each PDF to the library as a URL they're displayed just fine. But the tedium of entering a file URL for each PDF, image, or Website on your hard drive makes it all but pointless.
DevonNote does hit two high notes in organization. First is the Smart Groups feature. Much like iTunes' Smart Playlists, Smart Groups allow you to specify a set of search criteria that is executed each time you open the folder. So rather than having to manually track down and group all the AppleScripts you modified last month, a Smart Group can do it for you. The search parameters aren't quite as refined as you find in iTunes, but they are flexible enough to serve most needs. The other cool feature is a drawer called See Also & Classify. When a single item has been selected in the Library, this dual-paned drawer offers up various groups that the selected item may fit into. When I placed an Address Book AppleScript into a group of Safari bookmarks, DevonNote correctly suggested it be filed with an existing folder of Address Book scripts. The See Also half of the drawer lists other items in your library that are similar to the selected item. When I selected a URL in the filemaker.com domain, See Also listed several Microsoft Word files and HTML documents all of which reference FileMaker in some way.
Macworld's buying advice
DevonNote 2.0 handles text and URL quite well and for $25 that's a good value. Users with more diverse items to organize will want to keep looking.
[Stuart Gripman is the coauthor of FileMaker Pro 11: The Missing Manual and founder of Crooked Arm Consulting.]