At long last, the iPad native version of popular game Carcassonne has finally appeared—just as the prophecy foretold. The Coding Monkeys, developers of the board game adaptation, had long promised that an iPad version was in the works—and now it's here, just in time for the holidays.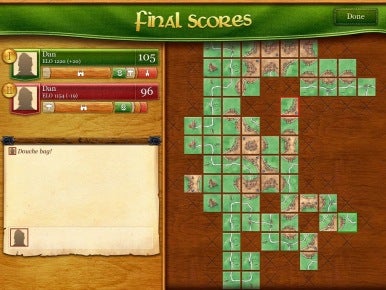 The app debuted for the iPhone earlier this year, and while it was still eminently playable on the iPad, you couldn't help but feel that there was so much more awaiting you. Some of the graphics were low-resolution, and there was just a feeling of that the interface was stretched into a larger space and didn't always make sense. Now, though, you can enjoy building your cities in an expansive canvas that fills the screen of Apple's tablet and takes full advantage of what that real estate can offer.
In addition to the iPad native interface, Carcassonne 2.0 also brings a new AI player named Hans who will go a little easier on his opponents. There's also now a scoreboard that lets you compare your performance with others: you can see how your solitaire score matches up to the Internet at large, how you compare to others who have played on your device (including AI players), and where you place among your Internet friends. There's also a global ranking of the top 250 Quick Play players.
But it's undeniably the iPad interface that's the star here. In everything from creating new matches to switching between games to actually playing, it's a marked improvement over the supersized iPhone controls.
Carcassonne now costs $10—if you purchased it earlier this year, you snagged it at half-price and the iPad update costs you nothing extra—and runs on any iOS devices with iOS 3.1 or later.