Firemint's much-anticipated sequel its popular driving game, Real Racing ( ), has finally grabbed a release date of December 16. The award-winning Real Racing, which debuted in April 2009, was well received because of its advancement of the iPhone as a social gaming platform. With more than double the competitors in the multiplayer function, new vehicle damage features, and more modes of game play, Real Racing 2 promises to be an improvement on an already impressive iPhone game.
The handheld racing game offers five game modes: Quick Race, Time Trial, Career, Online Multiplayer, and Local Multiplayer. The enhanced multiplayer modes are the biggest departure from the original game, where only six cars could play at once. Real Racing 2's new online racing makes that number look measly, as it is the first iOS game to feature a 16-car grid. Real Racing 2 also offers in-game money prizes for winning a race. The currency can be used to buy, sell, and customize cars within the game.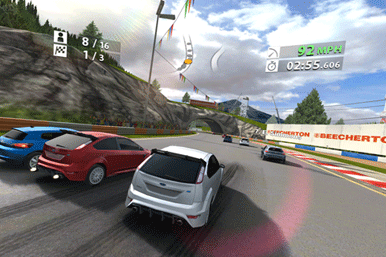 Yet, playing Real Racing 2 is an experience made of more than driving. The game hosts a choice of thirty real cars (like the 2010 Jaguar XKR or VW Golf GTI) that can be raced around 15 locations and 40 miles of track. Players will be able to watch their game through the point of view of five camera angles and television style replays. With clean, high-definition racing environments, the game looks to improve upon the beautiful graphics of its predecessor.
Ultimately, it will be interesting to see how far the Real Racing series has come since it first arrived with a bang on the handheld racing game scene. The game is powered by Firemint's Mint 3D engine and will run on iPod touch and iPhones dating back to the 2G. Integrated on Game Center and CloudCell, Real Racing 2 will hit the App Store next week on December 16 for $10.