Taking pictures with your iPhone is only half the fun: the other half is applying a new look to those images and sharing them with your friends. Burbn's Instagram is a photo app that allows you to take photos, apply a variety of filters and easily share your work across many outlets.
There are two main areas of Instagram: the photo editing and the social. Editing photos is very simple within the app. Existing photos can be selected from your photo roll (which means they don't necessarily have to be iPhone photos), or you can capture a new image within the app itself. All images are captured or cropped into a square format.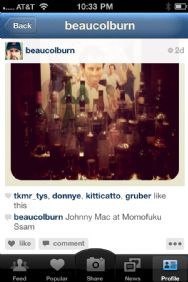 Once you've selected your photo, the Filter panel opens up to reveal 12 options along the bottom of the screen. Each filter applies a frame to the image and its own adjusted look. The filters include Polaroid-like effects with matching white borders, black and whites with heavy contrast, lomo-style toy camera style with heaving vignetting and exaggerated colors and more. Ideally, there would be a few more filter options available. Instagram is free, so perhaps add-on filters and editing functions will come later as some sort of In-App Purchase. Your original, untouched image can also be used simply to take advantage of Instagram's social sharing features.
And it's the social side of Instagram that really sets it apart. You can share photos with your Facebook, Flickr, Tumblr, and Twitter accounts. Instagram also connects with Foursquare, allowing you to tag your photo with its location and check in at the same time. If you choose to post an image to Twitter, it is posted on a custom instagr.am short URL, so it's apparent to your followers that it has come from the app.
Your Instagram account lets you link to Facebook and Twitter contact lists, but Instagram is also its own mobile social network. Friends that you "follow" within Instagram show up on your feed. You are shown the latest images that your friends have taken, and you can comment on them, or click the "like" button. There is also a news feed that shows activity that relates to you: notifications of new followers, likes, and comments.
The whole social experience of Instagram is very well done. The interface is simple and elegant, and browsing your feed is smooth and clean. One feature that seems to be missing from Instagram is the ability to maintain an online profile where your photos can be viewed directly. The short URL that is generated brings you to that specific photo, but there is no way to view the whole profile in a browser. It's possible that this is intentional, and the goal is to keep people within the app itself, where viewing all of one user's photos is possible. If the photo browsing experience within the app weren't so enjoyable, this would be more concerning, yet, there remains an appeal to being able to access a profile outside of the app itself.
Maybe the best part of Instagram is that its combination of simple social sharing, and effective, fun filters is encouraging more and more people to use their iPhone camera to capture and share the fun moments that take place around them daily. If your Twitter stream is anything like mine, you're seeing other people's Instagram moments every day.
[Macworld Contributor Beau Colburn lives in Boston. You can find him on Twitter, and Instagram (beaucolburn).]