Christmas songs are an easy target for the Bah Humbug set. The holiday classics have been played to death and covered by every artist looking for a way to fulfill the last commitment of an onerous contract. But, honestly, what's more likely to give you a strong dose of the holiday spirit: Auto-tuned dogs yelping "Grandma Got Run Over by a Reindeer" or just about any Christmas tune crooned by Bing Crosby? Here are my favorite recordings of the most traditional holiday tracks. (You can find the full playlist on iTunes.)
Frosty the Snowman, Ella Fitzgerald ( iTunes | Amazon MP3) Normally something you have to sit through during your kid's holiday school assembly, "Frosty" can be a great tune when put in the right hands. When those hands are Ella Fitzgerald's, it swings like it's never been swung before or since.
This Time of the Year, Ray Charles ( iTunes | Amazon MP3) You probably won't hear this rendition at a Christmas Eve church service or on a department store's Muzak system. But Ray Charles' delivery is fiercely soulful.
Have Yourself a Merry Little Christmas, Frank Sinatra ( iTunes | Amazon MP3) While Dean Martin generally gets the nod as the Christmas-iest of the Rat Pack, the Chairman of the Board gets his piece of the action as well. A rich (and occasionally playful) arrangement nicely shows off Sinatra's exquisite phrasing.
Let it Snow, Let it Snow, Let it Snow, Dean Martin ( iTunes | Amazon MP3) Speaking of Dino, here he hiccups his way through a chirpy, campy classic.
The Little Boy That Santa Claus Forgot, Vera Lynn ( iTunes | Amazon MP3) Christmas songs became an industry in the latter half of the 20th century, but some compelling holiday tunes were turned out before then. Lynn, a wildly popular English singer during WWII, produced this charming ditty. (It's also featured in the opening scene of Pink Floyd's The Wall.)
That's What I Want for Christmas, Shirley Temple ( iTunes | Amazon MP3) What do you mean you weren't raised on Sunday-morning Shirley Temple movies? If not, you probably missed this saccharine track from America's sweetheart. (I don't need to tell you that this song was featured in Temple's Stowaway , right?)
Christmas Night in Harlem, Louis Armstrong ( iTunes | Amazon MP3) As originally written, "Christmas Night in Harlem" (from the Broadway revue, "Blackbirds of 1934") was full of racist stereotypes. In the 1950s, Louis Armstrong stripped out the stereotypes and added a nice dose of swing.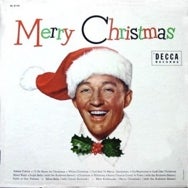 White Christmas, Bing Crosby ( iTunes | Amazon MP3) "I'll Be Home for Christmas", "Silver Bells", "Mele Kalikimaka (Merry Christmas)", and of course the title tune: Crosby owns Christmas—even Christmas in Hawaii. If you don't have this whole album, you're just not serious about the holiday.
Carol of the Bells, John Williams ( Amazon MP3) Regrettably iTunes doesn't carry the Home Alone soundtrack, which features this track. Played out though this Carol may be, this is a terrific account of it.
The Christmas Song, Nat King Cole ( iTunes | Amazon MP3) If you've heard "The Christmas Song" (a.k.a. "Chestnuts Roasting on an Open Fire" )—and who hasn't?—this is probably the version you know, complete with lush orchestral arrangement.
The Christmas Song, Mel Torme ( iTunes | Amazon MP3) But perhaps you haven't heard this version. Torme co-wrote the song, so he knows a little something about it. In this one, he lightly swings the tune with a small club combo; his later re-recording with an orchestra is closer to Cole's. To me, this one is the more interesting.
It's the Most Wonderful Time of the Year, Andy Williams ( iTunes | Amazon MP3) Back in the 1960s, it wasn't a holiday without a load of Christmas-themed variety-show specials on TV. Andy Williams' was among the most special of all, and this song was always a big part of it. This is a huge, big-band number with Williams' voice slathered in reverb.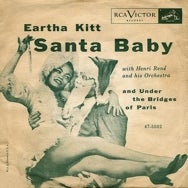 Santa Baby, Eartha Kitt ( iTunes | Amazon MP3) Why anyone would attempt to cover this tune after Kitt did it is beyond comprehension. Madonna, Sheila E., Macy Gray, Benita Hill—love ya, but go home.
Hark! The Herald Angels Sing, Take 6 ( iTunes | Amazon MP3) Not a classic recording in the sense that you've heard it a million times. But if you like your a capella with a bit of swing, this is just the thing.
A Holly Jolly Christmas, Burl Ives ( iTunes | Amazon MP3) Repeat a Christmas special on TV long enough, and eventually one of its songs will become a classic. Ives applied his warm, engaging style to this track from 1964's creepily animated Rudolph, the Red-Nosed Reindeer .
Christmas Time is Here (Instrumental), Vince Guaraldi Trio ( iTunes | Amazon MP3) Speaking of Christmas TV classics, A Charlie Brown Christmas produced a couple of terrific cuts, including this one and the churning kid's-bop of "Linus & Lucy"; there's the vocal version, too.