Christmas songs are an easy target for the Bah Humbug set. The holiday classics have been played to death and covered by every artist looking for a way to fulfill the last commitment of an onerous contract. But, honestly, what's more likely to give you a strong dose of the holiday spirit: Auto-tuned dogs yelping "Grandma Got Run Over by a Reindeer" or just about any Christmas tune crooned by Bing Crosby? Here are my favorite recordings of the most traditional holiday tracks. (You can find the full playlist on iTunes.)
This Time of the Year, Ray Charles (iTunes | Amazon MP3)
You probably won't hear this rendition at a Christmas Eve church service or on a department store's Muzak system. But Ray Charles' delivery is fiercely soulful.
Let it Snow, Let it Snow, Let it Snow, Dean Martin (iTunes | Amazon MP3)
Speaking of Dino, here he hiccups his way through a chirpy, campy classic.
That's What I Want for Christmas, Shirley Temple (iTunes | Amazon MP3)
What do you mean you weren't raised on Sunday-morning Shirley Temple movies? If not, you probably missed this saccharine track from America's sweetheart. (I don't need to tell you that this song was featured in Temple's Stowaway , right?)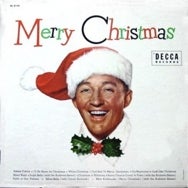 White Christmas, Bing Crosby (iTunes | Amazon MP3)
"I'll Be Home for Christmas", "Silver Bells", "Mele Kalikimaka (Merry Christmas)", and of course the title tune: Crosby owns Christmas—even Christmas in Hawaii. If you don't have this whole album, you're just not serious about the holiday.
The Christmas Song, Nat King Cole (iTunes | Amazon MP3)
If you've heard "The Christmas Song" (a.k.a. "Chestnuts Roasting on an Open Fire" )—and who hasn't?—this is probably the version you know, complete with lush orchestral arrangement.
It's the Most Wonderful Time of the Year, Andy Williams (iTunes | Amazon MP3)
Back in the 1960s, it wasn't a holiday without a load of Christmas-themed variety-show specials on TV. Andy Williams' was among the most special of all, and this song was always a big part of it. This is a huge, big-band number with Williams' voice slathered in reverb.

Hark! The Herald Angels Sing, Take 6 (iTunes | Amazon MP3)
Not a classic recording in the sense that you've heard it a million times. But if you like your a capella with a bit of swing, this is just the thing.
Christmas Time is Here (Instrumental), Vince Guaraldi Trio (iTunes | Amazon MP3)
Speaking of Christmas TV classics, A Charlie Brown Christmas produced a couple of terrific cuts, including this one and the churning kid's-bop of "Linus & Lucy"; there's the vocal version, too.
Note: When you purchase something after clicking links in our articles, we may earn a small commission. Read our affiliate link policy for more details.