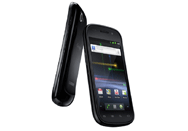 The first phone to ship with Android 2.3 (also known as "Gingerbread") as the well as the follow-up to last January's Nexus One, the Nexus S (available unlocked for $530 or for $200 with a two-year plan from T-Mobile) is a joint effort between Samsung and Google with some impressive features. The hardware is gorgeous, and Android 2.3 delivers some useful enhancements; but with no support for HSPA+ or expandable memory, the Nexus S falls short of its potential.
Hardware and design
The Nexus S isn't exactly leaps and bounds ahead of the Nexus One in its hardware. Like the Nexus One, it has a 5-megapixel camera and is powered by a 1GHz processor. It has a few key differences, however. For one, the Nexus S has an NFC chip built into it. Essentially, NFC chips can turn your phone into a sort of credit card. Ideally, when you wave your phone in front of a retailer's sensor, your purchase will immediately be placed on your account. For a detailed explanation of all that NFC can do, check out this primer.
The Nexus S's design unquestionably bears the Samsung aesthetic as much as the Nexus One does HTC's. That is both good and bad. In appearance, I think the glossy, all-black Nexus S is a lot more attractive than the Nexus One. In construction, it feels a lot flimsier and more plasticky than its HTC counterpart. Measuring 4.9-by-2.5-by-0.43 inches thick, the phone is a bit larger than the Nexus One. Weighing 4.5 ounces, the Nexus S is lighter than its sibling.
Like the Samsung Galaxy phones (the Vibrant or the Epic 4G), the Nexus S sports a 4-inch Super AMOLED display. The display is also curved (what Google and Samsung are calling a "Contour Display") so as to fit more comfortably next to your face. The curve is subtle, however.
Android 2.3, aka 'Gingerbread'
You can find in a separate article my extensive discussion of Gingerbread's new features and updates. While the update isn't a huge overhaul of the user interface, it has some very useful enhancements. Some of the most notable features include the improved software keyboard (though I still prefer Swype), NFC support, support for multiple cameras in the camera UI, and an overall boost in performance. Some subtle tweaks throughout the interface make Android look more polished. More blacks in the menus make icons pop, and animations make the UI more approachable and playful.
Google Apps and multimedia
I like my phones to be like my PCs: clean and free of bloatware. Fortunately, the Nexus S is pretty sparse. You get a pack of Google apps like Latitude, YouTube, Gmail, Places, Google Maps with Navigation, Search (with voice), Car Home, Google Talk, and Google Voice.
The music player remains the same as the one in Froyo—boring but easy enough to use. Videos downloaded to the phone played back smoothly and looked great on the Super AMOLED display. One of the nice things about Super AMOLED is that it remains pretty visible in bright, outdoor sunlight. If you like catching up on TV shows during your lunch break, this is a useful quality in a phone.
Camera
The Nexus S has a 5-megapixel camera with a flash and the same resolution as the rest of the Galaxy S pack. As I've mentioned in other Galaxy reviews, the camera quality is good, but not superb. (I'm not going to lie: I was keeping my fingers crossed for an 8-megapixel lens.) The Nexus One also had a good, but not mind-blowing camera. Colors in my indoor shots looked a bit faded, and generally, photos were slightly grainy. My outdoor shots looked drab, but I'm not sure that's really the fault of the camera—it's been a miserable, dark day in San Francisco today. One feature Samsung and Google overlooked is a dedicated shutter key on the phone's spine. It is a small detail, but it really makes a difference when snapping photos.
The camera's user interface has a nice variety of settings that you can tweak to your liking. It has autofocus, macro and infinity modes, four resolutions to choose from, nine scene settings, three color modes, three quality modes, and exposure metering. Overall, the camera app is simple and straightforward, and I really hope that manufacturers don't try to replace it with their own custom apps on future phones.
Like the Samsung Epic 4G on Sprint, the Nexus S sports a front-facing VGA camera for making video calls or taking self-portraits. As mentioned above,Gingerbread's camera interface adds support for multiple cameras.
You can shoot video as high as 720-by-480-pixels at 30 frames per second. A video I shot outdoors looked pretty good, if a bit jittery when a fast-moving object went by. Colors were accurate, and details appeared fairly sharp. Take a look at the sample video below:
Memory/Performance
If you plan on taking a lot of photos or videos, be warned: The Nexus S does not have a microSD slot. The device has 512MB of RAM and is capped at 16GB of internal memory. And unlike the iPhone, there's no 32GB model available.
Powered by Samsung's 1GHz Hummingbird processor, the Nexus S is quite speedy. Scrolling through Web pages was fluid, applications opened quickly, and navigating around the menus was smooth and fluid.
As mentioned previously, the Nexus S does not support T-Mobile's speedy (though spotty) HSPA+ network, which is a big letdown. T-Mobile's data speeds can be shifty in San Francisco, depending on where you are in the city. I ran the FCC-endorsed Ookla Speedtest.net app in the eastern part of the city and achieved an average of a 1632-kbps download speed and an average of a 1222-kbps upload speed. These speeds are actually quite fast; other T-Mobile phones we've tested have achieved much lower speeds in other parts of the city.
Call quality over T-Mobile was very good. Calls sounded crisp and natural with an ample amount of volume and no static. Callers on the other end of the line were also impressed with the little-to-no background noise during my calls, even when I was calling on a busy street corner.
Bottom line
When Google and Samsung team up to make a phone to debut the latest and greatest version of Android, we bring high expectations. The Nexus S isn't a disappointment, but it isn't groundbreaking either. While the gyroscope and NFC are welcome additions, I can't help criticizing the companies for overlooking T-Mobile's next-generation network and for oversights like a dedicated camera key and expandable memory. But it isn't a bad phone by any means; the display is gorgeous, Android 2.3 has some cool features, and call quality was excellent.