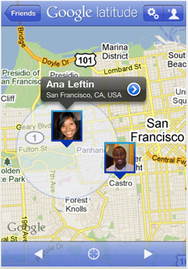 With Google's official Voice app making an appearance in the App Store after a long year of deliberation, it was only a matter of time before another controversial Google application— an iOS client for its location-based Latitude social network—arrived as well.
Like other location-based social networks, such as Loopt, Google Latitude allows you to see your friends' locations on a map as well as share your current location. You can also view a list of your friends with their current locations, how far they are from you, and how long ago they last updated their position. Latitude lets you invite friends via e-mail address or by searching your existing iOS or Google Contacts for other Latitude users.
With iOS 4, Latitude can take advantage of background processing to keep your location continuously updated even when your phone is locked or you're using a different app (Latitude also provides a switch for disabling this background functionality). And because privacy is obviously a big concern for location information, you can choose instead to manually set or even hide your location.
Initially announced in February 2009, Latitude promised an iOS client for the service would be "coming soon," but after disagreement with Apple on how best to proceed with the app, Google eventually released a Web client for the iPhone in July 2009. And, while pretty good for a Web app, the lack of key features such as background location processing probably put limitations on the service's adoption among many iOS users. Whether the appearance of a better-late-than-never native client will spur newfound interest in the service, however, remains to be seen.