Apple has continued on its slow but steady pace of adding new features to Ping, the music-based social network it announced as part of iTunes 10. Over the weekend, Apple introduced the ability to share your iTunes playlists on your Ping profile and collaborate on them with friends.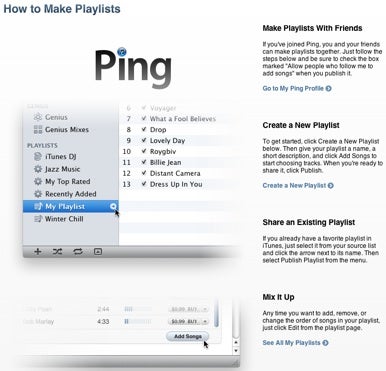 No software update is needed to take advantage of the new features: now, when you click the arrow icon on a selected playlist in your iTunes sidebar, a new "Publish Playlist" option entices you to share your meticulously crafted collection with your Ping friends. You can give your published playlist a unique name and description, then drag and drop songs to put them in optimum listening order.
Like the rest of your Ping activity, iTunes verifies that all of your playlist songs are in the iTunes Store—if iTunes cannot find a song, it gets silently stripped during preparation. Playlists are also limited to a total of 100 songs.
While editing your playlist for publishing, you can add more songs from the iTunes Store even if you don't own them. If you feel like taking a leap of faith with your Ping followers' taste in music, you can allow them to add songs to complete the experience. Your published playlist then appears in your Ping activity stream, and visitors can rate, review, and, of course, purchase individual songs or the entire playlist.
You can also create a brand new playlist in the iTunes Store for sharing on your Ping profile from this page, though as of this writing I can't find that option anywhere else in Ping or iTunes.
Apple has been steadily tweaking and adding features to Ping since its launch, including a Ping sidebar that eventually became the iTunes sidebar, as well as Twitter integration that makes it much easier to add friends and share your favorite tracks. Like many other social networks, Ping now lets you search your e-mail address books from Yahoo, AOL, Windows Live, and even MobileMe to quickly add new friends, and new filters let you view activity from just your friends or the artists you follow. Apple also cleaned up its Twitter integration over the weekend by replacing the iTunes Store's long, clunky URLs with shorter, more tweet-friendly https://itun.es links.