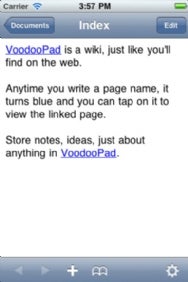 A desktop program that lets users create personal wikis has made its debut as an application for the iPhone and iPad.
VoodooPad for iOS, an offering from developer Flying Meat, made its debut last Friday in Apple's App Store. It's a slimmed-down version of its desktop counterpart, giving users the power to create documents that interlink and cross-reference information—including URLs and images—and to sync back-and-forth with the desktop version of VoodooPad via WebDAV and MobileMe.
While the app offers more flexibility than VP Reader, Flying Meat's free iOS app that let VoodooPad users view their documents on their iPhones in read-only mode, the documentation for the new app reveals some limitations. There is no support for rich-text editing within the app; documents synced from an iPhone or iPad back to a user's desktop lose their formatting as a result. There is no support for encryption, nor for syncing VoodooPad documents through Dropbox.
VoodooPad for iOS costs $10 and is compatible with all devices running iOS 4.2 or later.