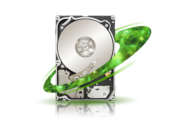 Seagate on Monday announced the industry's first 2.5-in enterprise-class drive with 1TB of capacity, or about 60 percentmore could be stored previously. The drive is designed for "nearline" data center storage applications.
The next generation Constellation hard drive allows a standard 2U (3.5-in high) storage array to store up to 24TB, and a full server rack to store up to 500TB.
Western Digital was first to the table with a 1TB 2.5-in hard drive with last year's release of the Scorpio Blue , which was targeted at laptops. That 5200-rpm SATA drive had 3Gbit/sec throughput and contained three 333GB platters.
Seagate's new drive spins at 7200 rpm, contains four 250GB platters, and has 6Gbit/sec throughput. Like the first generation of the Constellation, the second generation comes with serial SCSI (SAS) connectivity. The updated offering also offers serial ATA (SATA).
"We're comparing this model to a 10,000-rpm drive in the enterprise, which today has a maximum capacity of 600GB," said Barbara Craig, Seagate's senior product marketing manager. "Its performance is about three times that of notebook drive and it's twice as reliable."
The SAS model of the Constellation.2 is dual ported for resiliency and sports sequential and random read speeds of up to 115MB/sec; the SATA model has 115MB/sec sequential read speeds but boasts 180MB/sec for random reads. Not only did Seagate double the maximum capacity of the Constellation, but it also increased the entry-level drive capacity from 160GB to 250GB.
The Constellation lags behind Seagate's 1TB, 3.5-in enterprise-class drive in sequential performance, but blows by it in random reads. The random performance is better on 2.5-in drives because of their smaller disks and denser data.
Sequential Performance (MB/S) is better on 3.5-in drives because of the larger disk capacity and the higher areal density of the drive, Seagate said.
Regardless of the performance in comparison to its 3.5-in drive, Seagate pointed out that its new 2.5-in drive offers far greater space and power savings over its larger cousin. For example, the Constellation.2 offers 72 percent power savings while idle over the 3.5-in drive, or 3.85 watts versus 8 watts while idle, the company added.
Like its predecessor, the Constellation.2 is a self-encrypting drive. The latest model offers an encryption algorithm from AES 128-bit to AES 256-bit.
Sometime next quarter, Seagate is set to announce a Constellation.2 drive that has passed the Federal Information Processing Standards (FIPS) and is sealed with a tamper-resistant label.
The estimated mean time between failures (MTBF) was also increased with this drive from 1.2 million hours with the previous generation to 1.4 million hours, according to Craig. The Constellation.2 has twice the lifespan of Seagate's 2.5-in laptop drive, the Momentus.
"We've experienced excellent field data on the Constellation product line and are passing this improved reliability on to the customer," she said.
Meanwhile, Dell announced today that it is the first equipment maker to include the Constellation drive in a new array. Dell's MD1220 external storage expansion array houses 24 2.5-inch drives for the maximum 24TB capacity. Up to eight expansion arrays can be clustered together for a maximum of 192TB of capacity, Dell said.
[Lucas Mearian covers storage, disaster recovery and business continuity, financial services infrastructure and health care IT for Computerworld.]
Note: When you purchase something after clicking links in our articles, we may earn a small commission. Read our affiliate link policy for more details.