Christmas music lives in a parallel universe from real music. After Thanksgiving, I dust off that folder full of holiday MP3s and add it back to iTunes, only to remove them again right after New Year's. Sure, I enjoy the classics as much as the next guy, but I don't need to hear them more than five weeks out of the year.
However, there are some holiday tracks that I play year round. That's because they're by bands I listen to year round anyway. (Sorry, Frank Sinatra, Harry Connick, and Mannheim Steamroller: If it's not Christmas, I don't wanna hear you.) As you might expect, because I'm the one who's making this list, these bands tend to be a bit on the geeky side. So here, for your approval (or, heck, disapproval), is a list of my favorite geek-tinged holiday tunes. (You can find the full playlist on iTunes.)
The Man in the Santa Suit, Fountains of Wayne ( iTunes | Amazon MP3) Fountains of Wayne is one of my favorite bands, combining great power pop with a sense of humor. They've also written a clutch of great holiday songs. I kick off my list with this one, which tells the sad story of a fill-in department-store Santa who's in it just for the money.
Santa's Beard, They Might Be Giants ( iTunes | Amazon MP3) No geeky playlist would be complete without an appearance (or two) from They Might Be Giants. In "Santa's Beard" (from the group's early album, Lincoln), Santa is a fat antagonist who breaks up the singer's happy home. It's peppy, catchy, festive, and geeky all at once. You could just get the band's entire Holidayland EP ( iTunes | Amazon MP3), which also includes features the funny Hanukkah song "Feast of Lights" and a nice version of "O Tannenbaum" in the original German.
Carol of the Meows, Guster and The Meowstro ( iTunes | Amazon MP3) Once upon a time, this band I like—Guster—released a version of its album Keep it Together on the Internet as a way to combat piracy. More specifically, Guster released a version of the album for pirates to download, but replaced all the vocals with the sound of one of its recording engineers meowing like Henrietta Pussycat. (That album is now available commercially as The Meowstro Sings Guster's Keep It Together.) As a follow-up, Guster decided to record a special holiday single: the traditional "Carol of the Bells" as sung, er, meowed by The Meowstro. It is awesome. And terrible. And insane. And I love it.
Christmas with the Devil, Spinal Tap ( iTunes | Amazon MP3) "The sugar plums are rancid and the stockings are in flames," begins this holiday classic by legendary metal band Spinal Tap. It's a dark tale, to be sure. (How much blacker could it be? None more black.) But it's a celebration of the holidays nonetheless—except, of course, now it's "evil's holiday." Give it a listen next time you're stuck in traffic at the mall, just to blow off some steam.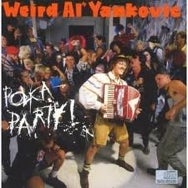 Christmas at Ground Zero, Weird Al Yankovic ( iTunes | Amazon MP3) Now we're at the molten core of geekiness. From his critically panned album Polka Party!, this song alone would be enough in my mind to justify Weird Al Yankovic's entire career. Jingle bells turn to air-raid sirens as the mid-'80s fear of nuclear warfare leads to a holiday armageddon. "We can dodge debris / while we trim the tree / underneath a mushroom cloud," sings the bard. I love this song so much that, before iTunes existed, I dug out my old cassette tape and digitized it myself, just so I could play it at Christmas.
I Want an Alien for Christmas, Fountains of Wayne ( iTunes | Amazon MP3) Fountains of Wayne again, this time with a song originally written for (but never recorded by) teeny-pop band Hanson. It's not the most thematically gripping of numbers: it's about a kid who wants to get a little green guy about three feet high with seventeen eyes who knows how to fly for Christmas. But put this on at home, and your kids will sing it until they fall asleep.
I Hear the Bells, Mike Doughty ( iTunes | Amazon MP3) Christmas in New York, complete with snow and ringing bells. I love how evocative this song (by former Soul Coughing frontman Mike Doughty) is, from the lyrics to the subtle backing vocals. Bells "glint in the night, commas and ampersands." Yeah, okay, there's also some making out in a movie-theater balcony. But what's wrong with that?
The Bells are Ringing, They Might Be Giants ( iTunes | Amazon MP3) Another song from TMBG and another song about bells. But in this one, the bells are sinister. They represent holiday consumerism gone wild (Charlie Brown knows what I'm talking about); as the bells rampage through the city, they take over unsuspecting people like the pods in Invasion of the Body Snatchers until everyone is under their thrall.
Just for Now, Imogen Heap ( iTunes | Amazon MP3) Not strictly speaking a holiday song, but I've always read it as an account of an awkward family gathering, and what's more holiday-ish than that? "How did you know? It's what I've always wanted. No, you can never have too many of these. Would you quit kicking me under the table? Pour me another… now don't wag your finger at me." Plus, something burns in the oven. And Imogen Heap's beautiful voice is always welcome in my house, no matter what time of year it is.
Christmas Time is Here, Vince Guaraldi ( iTunes | Amazon MP3) Vince Guaraldi's score for A Charlie Brown Christmas is rightfully lauded as brilliant. My favorite track is "Christmas Time is Here," the instrumental version that isn't sung by a dozen animated characters. But for true geek cred, track down the solo piano version by Christopher O'Riley from his At the Break CD; sadly, it's not available for digital download. If you don't know who O'Riley is, he's the host of an NPR show about classical music. More importantly, he's the guy who records albums full of modern pop and rock songs (by Radiohead, Nick Drake, and others), re-arranged for classical piano. Awesome.
The Christmas Song, Nat King Cole ( iTunes | Amazon MP3) Come on, even geeks have hearts. Best holiday song ever recorded? It gets my vote. Although it's been said, many times, many ways: merry Christmas to you.