At a Glance
Expert's Rating
Pros
Easy setup
Twin dock for Seagate's portable GoFlex drives
Cons
Only one USB port for additional drives
Our Verdict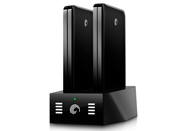 If you've read about the Cloud Engines Pogoplug ( ), you know most of what you need to know about the Seagate FreeAgent GoFlex Net. This USB storage sharing device (which looks a little like the upper couple of inches of a compact black toaster) incorporates the same technology as the Pogoplug, so you get supereasy access to your files from any Internet connection, along with the ability to share them with others.
The main difference between the GoFlex Net and the Pogoplug lies in the connection hardware: The Pogoplug provides four USB 2.0 ports for attaching storage, while the GoFlex Net has two 2.5-inch SATA hard drive bays designed to accommodate the Seagate GoFlex portable hard drive, as well as a single USB 2.0 port for attaching USB drives. Seagate sells GoFlex drives that fit snugly into the dock, but the connectors inside are standard SATA and I successfully connected several non-Seagate drives to the ports. In fact, you should be able to use any 2.5-inch SATA drive that has separate data and power connectors, though you might have to remove it from its case first.
As with the Pogoplug, setup for the GoFlex Net's setup is very simple. Plug the unit into the wall and into the router, go online to Pogoplug.com, create an account or sign in to an existing one, and select Activate New Device. Previously, users had to enter a serial number found on the bottom of their Pogoplug-technology product, but now (in most cases) the devices appear automatically.
The Pogoplug online portal lets you copy, delete, download, and upload files—basically, anything that you can do with your files at home. There's even an online viewer for perusing images, Microsoft Office files, and other content without having to fire up a local application—handy in Internet cafés that offer only browsing. Seagate includes software for file syncing, too. And the GoFlex Net works with social networking services and portable devices like the iPhone and the iPad. Pogoplug doesn't support local network administration or access, but it allows you to share files online more easily than with CloudPlug.
Macworld's buying advice
Many users will appreciate being able to plug SATA drives directly into a Pogo-enabled dock. My chief complaint with the FreeAgent GoFlex Net is it has only one USB port, though you can work around that (as I did) with a powered USB hub.