One of the most personalized gifts you can give this holiday is a photo mosaic. A photo mosaic is a large image constructed from hundreds of smaller photos; in effect, each of the smaller photos functions as a single pixel in the overall image. Although it sounds complicated, creating a mosaic is quite easy. You start by feeding a source image (perhaps a photo of a pet, but any subject will do) to a specialized utility; it then pores over your photo library, collects appropriate images, and then constructs a unique mosaic.
To construct the mosaic below, I used a utility called Mazaika ($50). It's a bit costly, but you can use it on a trail basis for a full month. The most notable limitation of the trial version is that it restricts output to a maximum of 2000-by-2000 pixels. That resolution is sufficient for making prints up to 8-by-8 inches, but at larger sizes, you're likely to see pixelation.
Select a source image The source image is the photo on which the mosaic is based. It's best to choose something simple and easy to recognize, such a portrait of person with a minimal background. Avoid busy photos with a lot of people, because they will likely be unrecognizable when made into a mosaic. (Not sure if the photo you want to use will work? Display the photo full screen, step back from the computer about 15 feet, and squint your eyes. If you can still recognize what you're seeing, the photo is suitable as a source image.) Once you've found the photo you'd like to use, save it to your desktop.
Sort your photos A photo mosaic works best with hundreds (even thousands) of photos, so your next task is to round up the photos you'd like to use. Open iPhoto, choose File -> New Album, name the album "Mosaic," and click Create. Now fill up that album with any photos related to your source photo; for example, a mosaic of your dog should probably contain images of you and your family playing with the dog (and not the time Uncle Marty had a bit too much to drink and ruined Christmas).
If you use Aperture or Lightroom, you'll need to export the photos to a folder on your desktop. Note that Mazaika doesn't require full-resolution images to make a mosaic, so feel free to downsize the photos to a maximum of 800 pixels in either dimension in order to conserve disk space.
Making your mosaic Once you've readied your photos, open Mazaika. You'll notice that the interface is not that intuitive, but the process of creating a mosaic is actually rather simple. First, click New Lib. A panel will slide into view, letting you choose one or more albums in iPhoto. Place a checkmark next to the album named Mosaic (and any other albums you want to include); or, if you're an Aperture or Lightroom user, click Add Folder and choose the folder containing your exported photos.
On the far right you'll see a set of options that allow you to set the crop justification for each tile in the mosaic (which is preset to the middle) or choose to stretch photos to fill the tiles. You can also change the aspect ratio of the tiles from 1:1 (square) to 4:3 (rectangular), but for the moment, I recommend leaving these settings in their default states.
Click Make Library to continue. You are then asked to name the library and choose a location on the hard disk to save it; and when that's complete, you're given a choice of creating another library or opening the one you just made. Click "Open the library and make mosaic" to move on.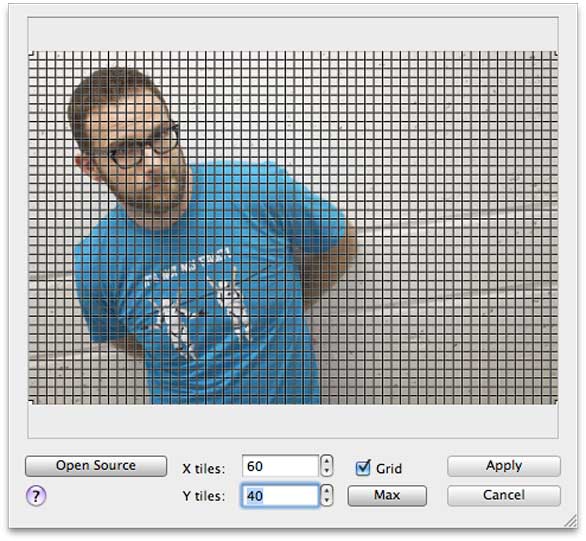 Once you've return to the main window, click the Source button. Another panel will slide into view; when it does, click Open Source and choose the source image that you saved on your desktop. The source image will now appear in the panel, overlaid with a grid. Unless your source image is square, the grid is unlikely to cover the entire photo. If you're content with a square crop, simply click the grid, drag it to the best position and click Apply.
However, if you'd like to use the entire photo, you'll need to adjust the number of X and Y tiles. Cameras tend to use one of two ratios for photos—either 3:2 or 4:3—so you'll need enter X and Y values that are a multiple of these ratios. So, for a photo with a ratio of 3:2, enter 48 for X and 32 for Y; for a photo with a ratio of 4:3, enter 40 for X and 30 for Y. (Make sure you press return after entering each number.) Click Max to expand the grid the full size of the photo, and then click Apply.
It's time to calculate your mosaic. Click Render, and within seconds, you'll see the mosaic form before your eyes. The color quality of the mosaic will depend on the color content of the photos in your album; if you're not happy with what you see, you have two ways to address the issue.
The first option is to allow more repetition of the same photo, which you can do by reducing the distance between identical images. Under the Render button, you'll see a field called Distance that is preset to 6. Enter 3 and then click Render; in a moment, you'll see a more consistent (but more repetitive) mosaic.
The second option is to "enhance" your mosaic by allowing the utility to tweak the color and brightness of the tiles. Click Enhanced (just below the mosaic), and you'll see that it makes a significant difference. You can tweak the enhancement with two slider controls on the left. Blending controls the overlay of the source image onto the mosaic, while Correction controls the degree of the color/brightness correction. (Try Blending: 0 and Correction: 0.5). Note that you can reference the original image at any time by clicking Source, and you can return to the untouched render by clicking Mosaic.
Wrapping it up Once you're happy with the mosaic, click Export. The default dpi (dots per inch) is set to 150; for best results when printing, bump up this value to 300. You'll also need to bump up the resolution significantly. If you're using the trial version of the utility, enter a maximum width or height of 2000 (which is acceptable for smaller prints); however, if you've paid for the full version of the utility with the intent to print out a poster-sized mosaic, enter a width or height of at least 10,000. Click Save to JPEG File to generate the full-sized file. Now have the file printed and framed, and chalk up another lovely gift to a friend or loved one.
You may not want to fork over $50 for a mosaic app. I used Mazaika because of its stability, fast performance, and excellent results. However there are other mosaic programs for the Mac available for free, such as MozoDojo or MacOSaiX, for example. Despite the lure of freeware, if you want really fine-looking results, I'd suggest springing for the $50 package.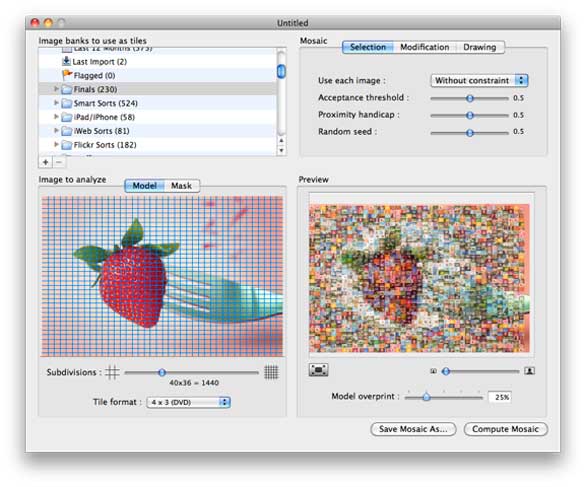 [Chris McVeigh is an author, illustrator and toy photographer who lives in Halifax, Nova Scotia.]