On Tuesday morning, CNN launched its iPad app, a multimedia offering featuring text, photos, live video, and hourly two-minute updates from the news network's radio service.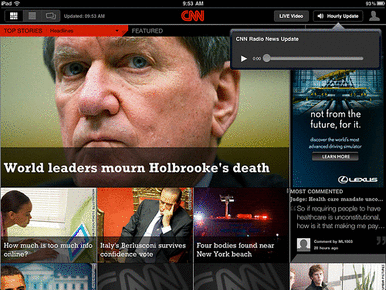 Like the network's Web site, the new app lets users choose a preference between the national or international editions of CNN headlines. Users can view top headlines in a grid, a list, or via a slideshow. Stories offer text, related video, and the ability to share the content via e-mail or social networks. Stories can be saved for later perusal—although an initial test of the app revealed that only the text, not the video, of a saved story was available for offline viewing. (CNN's video guiding users through the app is embedded below.)
CNN's app also features optional push notifications for breaking news, and features a list of stories viewed by the user. The live video option doesn't include feeds from CNN's cable networks, but instead offers raw live footage of breaking news and other major events.
In a related development, CNN announced Tuesday that its $2 iPhone app is now free in the United States. The international version of that app is being upgraded to include live video feeds.
CNN App for iPad is free, and compatible with iPads running iOS 3.2 or later.
Read more…