Mac software bundles haven't quite reached literal dime-a-dozen status, but that's not for lack of trying. As the holiday season hits full swing, it seems like there are more sale offers than ever before. But the new Indie Mac Gift Pack has a unique conceit that sets it apart: the app contains six apps from six independent software developers, who all share directly and evenly in the profits—with no middleman involved.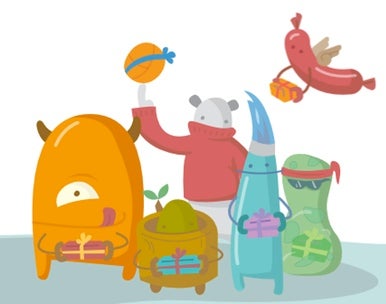 The six apps in question are Delicious Monster's Delicious Library 2, Flying Meat's Acorn 2, Red Sweater's MarsEdit 3, Rogue Amoeba's Radioshift, Acacia Tree's SousChef, and Felt Tip's Sound Studio 4. Combined, those apps would set you back $272, but the Indie Mac Gift Pack makes them all available for just one low easy payment of $60.
The Gift Pack, which was the brainchild of Delicious Monster's Chief Executive Monster Wil Shipley, aims to differentiate itself from other Mac software bundles in a variety of ways. These bundles are often good deals for customers, Rogue Amoeba CEO Paul Kafasis told Macworld via e-mail, but the developers' aim was that this one "would still provide a good return for the developers." Since the six companies will share profits evenly, each developer takes home 17 percent of the sale price, instead of the dramatically smaller single-digit shares allotted in most other bundles.
Red Sweater founder Daniel Jalkut echoed Kafasis's thoughts. In an e-mail, he also celebrated "the authenticity that comes with 'no middlemen.'" Middlemen, Jalkut said, "are in the business of selling things cheaply. We're not in that business, so we can offer a superb sale without exuding a completely bargain-basement feel." As Jalkut pointed out on Twitter, each of the apps in the Indie Mac Gift Pack could independently headline another software bundle.
Shipley told Macworld that his primary goal in creating the Gift Pack was, not too surprisingly, money. Delicious Monster is gearing up to create an all-new product, he said, "and that means we've got to have a war chest to survive while it's being built." That inspired him to "call our friends in the industry and make a bundle of our favorite software." And those friends responded, quickly. "We ended up saying 'no' to some really great apps," just to keep the $60 price point, Shipley said.
He was also quick to point out that the Indie Mac Gift Pack isn't meant as a knock on other popular bundles like MacHeist—"I was very happy to be in their bundles the last couple years," Shipley said—and is rather meant to be something different.
While the Gift Pack differs from other Mac software bundles in plenty of ways—the middleman factor, the lack of apps to "unlock" by spamming your Twitter followers with promotional tweets, and the higher payout per developer—it's got one key element in common: the software really is being sold at a massive discount. Should consumers feel guilty buying these apps for $212 less than retail?
No, says Kafasis. "This is a limited time offer, designed to raise the profile of these applications for people who might not otherwise have bought them… We wouldn't be running this deal if we weren't satisfied with the earnings on each sale." Jalkut again agrees: "Buyers should feel great buying this bundle."
Adds Shipley: "They're giving money to the smallest software companies that write the coolest software, and supporting us writing even cooler stuff in the future."