On Monday, LucasArts, Sony Online Entertainment and Transgaming announced that the Star Wars: Clone Wars Adventures' virtual online world is now open to Mac users.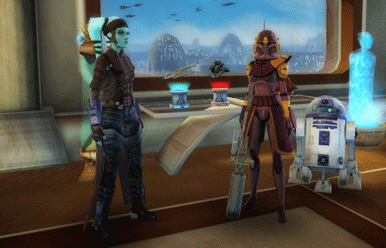 "The demand for game content on the Mac platform has increased significantly, and we are excited to bring our games to this growing audience," stated John Smedley, president of Sony Online Entertainment, in a press release. "Through our collaboration with TransGaming, Mac and PC players are able to play together seamlessly on both Free Realms and now Clone Wars Adventures, and we will continue to look for opportunities with future games to do the same."
Clone Wars Adventures allows fans of the Star Wars TV Series, The Clone Wars, to fully experience the series' setting. It is essentially a massive online world, similar to Second Life, where Star Wars enthusiasts can wonder around freely as either a Jedi, a Padawan, or a Clone trooper, and experience what it is like to be a citizen in the Star Wars (specifically Episode II's) universe.
In the Clone Wars' world, players can take up residence in their own Star Wars themed apartments. They can customize their apartments in multiple different ways and styles and really make them their own. The living spaces can also house droids and be the settings for some online parties.
If players grow tired of the confines of their apartments, they can travel deeper into the game's virtual world to solve Droid puzzles, participate in virtual events, and compete in various Star Wars themed competitions. Players can also act out various Star Wars actions, like Speeder Bike racing, Lightsaber dueling, and Starfighter flying. Occasionally, in their travels across the Clone Wars world, players will come across, and work alongside the likes of Anakin Skywalker, Obi Wan Kenobi, and Master Yoda.
Viewers of the Clone Wars TV series who enviously watch the show week to week as its characters use cool new items, or perform awesome new stunts, won't have to wait too long after new episodes to take the same actions as the characters. Every week Clone Wars Adventures is updated with content previously highlighted in the TV series' most recent episodes.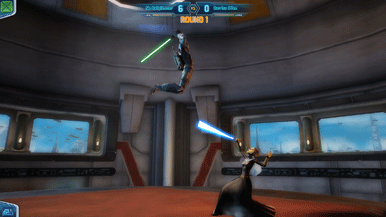 Star Wars: Clone Wars Adventures sports crude humor and fantasy violence. It is rated E10+, meaning gamers 10 or older are clear to play it. Its basic form is free to play, but those gamers who want to experience a little more in the game can pay a monthly $6 Jedi Membership subscription fee to get some extra content
Gamers who want to play the game are directed to the Clone Wars Adventures Website. For those individuals who want to learn a little more about the game before playing it, they can check out Clone Wars Adventures' Facebook page.
Star Wars: Clone Wars Adventures