At a Glance
Expert's Rating
Pros
Good clean text
Fast print speed
AirPrint compatibility
Touchscreen controls
Printing apps
Cons
Limited paper capacity
No wired ethernet connection
ePrint remote printing feature can be slow or unavailable
Our Verdict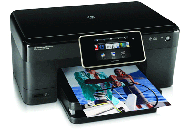 HP's Photosmart Premium e-All-in-One (C310a) is an inkjet multifunction with a letter-sized flatbed scanner with scan and copy capabilities. It also offers a long list of hot printing features, like 802.11 wireless printing, a 4.3-inch TouchSmart control screen, the ability to download and use dozens of Internet printing apps, support for Apple's AirPrint, as well as HP's own ePrint technology. Compared to the like-priced Epson Artisan 725 and Canon Pixma MG5220, the Photosmart Premium e-All-in-One is faster, but not quite as well equipped.
Setting up the printer is easy: just plug it in and follow the instructions on the handy TouchSmart control screen to connect to your computer via USB 2.0 or 802.11b/g/n. The touchscreen itself could be a bit more responsive; I sometimes had to push buttons twice for the input to be recognized.
I also noticed that the Photosmart Premium is a loud printer. Every time it finishes a print job or has been sitting idle, it goes through a long maintenance routine, clicking, popping, and whirring for 20 desk-shaking seconds.
The Photosmart Premium uses five individual ink cartridges: cyan, magenta, yellow, black and photo black. The Photosmart Premium comes with special setup ink cartridges that actually have more ink than the standard ink cartridges. The extra ink in the setup cartridges is there to compensate for the ink used during the initial printer calibration.
The costs for replacement inks are just average; the standard-size cartridges include a 250-page, $12 black (4.8 cents per page) and 300-page, $10 cyan, magenta, and yellow (3.3 cents per page). It all adds up to 14.8 cents per four-color page. High-yield supplies are considerably cheaper: The 800-page black costs $35 (4.4 cents per page), while each 750-page color costs $18 (2.4 cents per page), making for an 11.6-cent, four-color page. A fifth color, photo black, costs $10 for the standard size, which lasts for about 130 4-by-6-inch photos; the high-yield, 290-photo size costs $18.
It's been awhile since I've reviewed an HP printer, and it seems that the software has been refined considerably—dumping fewer icons into the dock and giving more control over what appears where.
In our speed tests, the Photosmart Premium turned in impressive results. It joined a pretty exclusive club of competitors who needed less than a minute to print our 10-page monochrome text file in Word at normal settings. At the other end of the spectrum is our Adobe Photoshop test, a 22MB, letter-sized color photo printed at Best quality: the Photosmart Premium took about two and a half minutes to emerge—an above-average time. The resulting print was of superior quality; colors were pleasing, with no visible dot patterns or banding, and good detail in darker areas. Choosing a lower-quality setting will, of course reduce the print time, but the quality suffers as a result. Interestingly, choosing Highest DPI print settings, while taking longer to print than the Best setting, did not make much of a difference in image quality. Text quality was also very good, with clean type filled in nicely, though we noticed that the edges were a bit soft. Our PDF graphics test page showed the Photosmart Premium to be capable of producing clean curved lines, smooth gradients and neutral, if a bit grainy, grayscale photos on plain paper.
Scans using the 1200-dpi (optical), letter-sized flatbed scanner contained plenty of detail. Colors in our photographic scans were a bit on the red side, but nothing that a little tweaking in the photo editor of your choice couldn't remedy. The copies we printed were of good quality, though a little grainy, with bright colors and cleanly reproduced text.
Advanced features
At the time of this review, HP is the only printer company supporting AirPrint, a feature of Apple's iOS 4.2 that allows printing from iPads, iPhones and iPod touch devices over Wi-Fi networks; and only a handful of HP's printers support it at that. The Photosmart Premium is one of those few and worked as expected, recognized automatically by my iPhone 4 and able to print photos, e-mails, and more from AirPrint-capable iOS 4.2 applications.
The Photosmart Premium also allows you to access and print information from the Internet using available print apps. These apps make it easy to print out current headline stories from sites such as Yahoo or MSNBC. Apps providing recipes, crossword puzzles, coloring pages, and more are also available and worked well. The last time I looked at these printing apps, there was just a handful; a current visit to the HP ePrintCenter Website showed 76 different apps available. Hopefully, that growth trend will continue.
Less successful was my testing of HP's new ePrint technology, which (after registering with the ePrint service) provides your printer with its own e-mail address. With this address, you can send e-mails and documents to your printer from anywhere. Give the e-mail address to your friends and family and they can also send you prints. I sent an e-mail with a photo attachment to the printer before attending an hour-long meeting. When I returned, the output tray was empty. I continued to work, and about and hour and a half later (2.5 hours after sending the job), the files finally came through. Another time, a print job took just a couple of minutes.
It turns out I'm not alone in experiencing delays when using the ePrint service. If fact, an HP support forum with the subject, "ePrint – Not Connected error" had over 28 pages of reports and complaints about long-term outages of the service. An HP representative acknowledged that there have been "cloud issues," but said that they are working hard to improve service and "it's getting better every week."
Macworld's buying advice
If you're looking for a speedy multifunction inkjet with wireless capabilities, the HP Photosmart Premium is worth a look. Its text and photo printing quality are impressive, and its AirPrint support, touchscreen menus and printing apps are nice-to-have features that work well. If the unit's remote printing via ePrint Center is your main attraction, however, know that the service is experiencing some growing pains.
[James Galbraith is Macworld's lab director.]