Rovio's wildly popular Angry Birds is back once again, this time spreading holiday cheer. Rovio has updated and renamed its "Angry Birds Halloween" app to Angry Birds Seasons. This new app boasts 25 new Christmas-themed levels and comes packaged with the 45 Halloween levels. For a dollar, that's a lot of disgruntled poultry.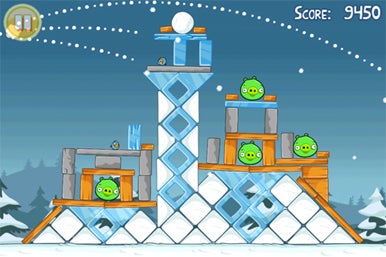 Now Angry Birds fans who download Angry Birds Seasons can choose whether they want to play the Halloween track (45 levels) or the Season's Greetings track (25 levels). The catch is this: the Season's Greetings track is an advent calendar, and there's one level for each day of December leading up to Christmas. However, keeping with the advent calendar theme, users can't play all of the levels at once—instead, one level is opened up on each day.
If you've never played Angry Birds before, it's a fun, challenging, and totally adorable physics game. Little green pigs have stolen some birds' eggs, and this has made the birds, well, angry. Your job is to destroy the pigs by slingshotting birds into their makeshift barriers. To complete each level, you must destroy all of the pigs before you run out of birds.
Aside from the dressed-up theme, Angry Birds Seasons is no different from the previous Angry Birds games. There are seasonal bonuses (presents) that you can destroy to get an extra 3000 points. Also, you don't have to complete each level to go onto the next—in the advent calendar track, you can play all of the levels that are currently available at any time.
Unlike the original Angry Birds and Angry Birds Halloween, the Season's Greetings track does not start out with a laughably easy level—after all, you only get one level a day, and Rovio wants to make you work for it. So the 25 levels are all considerably challenging, much harder than a lot of the initial levels in the original and Halloween game. It's safe to say that even seasoned Angry Birds fans will find the daily levels rather tricky.
Angry Birds Seasons brings fun, Christmassy spirit to the most popular iOS game of the year. With the included Halloween track, you get a total of 69 challenging levels—definitely worth the $1 (Angry Birds Seasons HD is $1.99).
[Sarah Jacobsson is a frequent contributor to Macworld.]