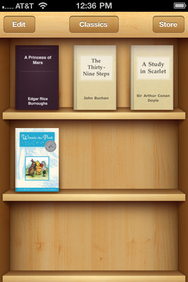 While e-books may not take up a lot of room on your physical shelves, start to amass more than a few and your digital shelves will begin looking a little cluttered. Fortunately, Apple's Wednesday release of iBooks 1.2 will have you exercising your library science skills with the introduction of Collections. Plus, you'll be able to enjoy fully-illustrated works, finally get your notes out of your e-books, and more.
With Collections, you can organize your titles into separate shelves of your creation. Want a shelf entirely for science-fiction noir novels? No problem. Need to sort through your PDFs for all those product manuals? Easy peasy. Just tap the button in the top center of the menu bar, which displays the name of the current collection (by default, Apple includes a Books collection and a PDFs collection), and you can add new collections and edit existing one.
Moving titles is as easy as tapping the Edit button in your main bookshelf, selecting the items you want to move, and tapping Move. You can even intermingle PDFs and e-books—if you dare. To switch between collections, either tap the button at the top of any shelf, or simply swipe left or right. Don't worry about having to recreate all your collections for each of your devices either: iBooks will automatically sync them along with your books (you can disable this option in Settings, if you prefer).
Also included in iBooks 1.2 is support for fully-illustrated books. While the copy of A.A. Milne that Apple includes with its iOS devices is great, there are plenty of children's books, art books, and other titles where illustration is an even more prominent component. iBooks now supports these titles, which you can download right from the iBookstore, in gorgeous full-page color.
My favorite addition, however, is hands down the ability to print iBooks notes right from the app via AirPrint. No printer support? No sweat: you can also e-mail them. (Unfortunately, notes don't include the e-book text that they're linked to.) You can also e-mail or print PDFs in your iBooks library.
Finally, iBooks can now automatically hyphenate text on a page, a feature that you can switch on in the iBooks section of Settings (oddly, it too is only available for those running iOS 4.2). And, if you're exercising your Sherlock Holmes-level observations, you'll notice that not only the app's icon has changed (for the third time), but the shelf images also feature a lighter woodgrain texture. New shelves, without having to drive all the way to Ikea: just one of the ways that Apple's out to improve your reading experience.
As always, iBooks is a universal app for both iPhone and iPad. It requires any device running iOS 3.2 or later.