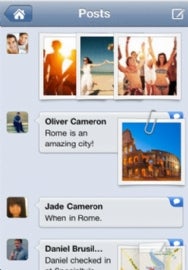 The market for iPhone apps that combine a user's social networks grew more crowded Wednesday with the debut of Friends, an offering from San Fransisco's Taptivate.
Similar to the not-much-older SocialPhone app from PhoApps, Friends gives users the power to sync their social network with their phone's address book, creating one master list of contacts. It can pull information from Facebook, MySpace, LinkedIn, and Twitter. Users can also post status updates and check feeds on each of those networks, either individually or in one combined timeline.
Friends also lets users initiate phone calls from directly within the app, adding that contact—and even the contact's address and map location—to the user's list.
Friends costs $2 and is compatible with any device running iOS 4.0 or later.