Few Mac OS X features generate such conflicting reactions as Spotlight. It can be an incredibly useful tool for finding data on your Mac, but it can also be teeth-grindingly frustrating to use.
We've covered a few Spotlight alternatives (such as EasyFind), as well as several programs ( MoRU, NotLight, HoudahSpot, and TorchFS, among them) that use Spotlight for their searches but provide improved interfaces for initiating those searches and viewing search results. But most of these utilities are designed with the power user in mind—if you just want a better way to make sense of Spotlight-search results, these programs are likely overkill.
An appealing alternative—especially for those who cut their teeth on Spotlight way back in Tiger (OS X 10.4)—comes from the developer of HoudahSpot. Houdah Software recently announced a public beta of a new utility, Tembo, which in many ways mimics the Spotlight-search-results window you'd find in Tiger. (You can download the latest pre-release version from the Made@Gloria Brewery.) The developer says Tembo is designed to make finding your data as easy as possible, and in my early testing, it certainly offers improvements over Snow Leopard's built-in search interface.
Launch Tembo and enter your search term(s), and in a few seconds, the window fills with the results of your search. But unlike Spotlight in Snow Leopard, which gives you a single—and often overwhelming—list of files with only a couple filtering options, Tembo's results are both more flexible and easier to use. As in Tiger, results are grouped by type: Applications, Documents, Folders (yes, Tembo displays matching folders), messages (e-mail and iChat logs), images, PDFs, Safari bookmarks, movies, music, and so on. Tembo displays the top ten results for each type, and you can choose, in Tembo's preferences, the order in which these groups appear; you can also disable particular types from appearing in search results.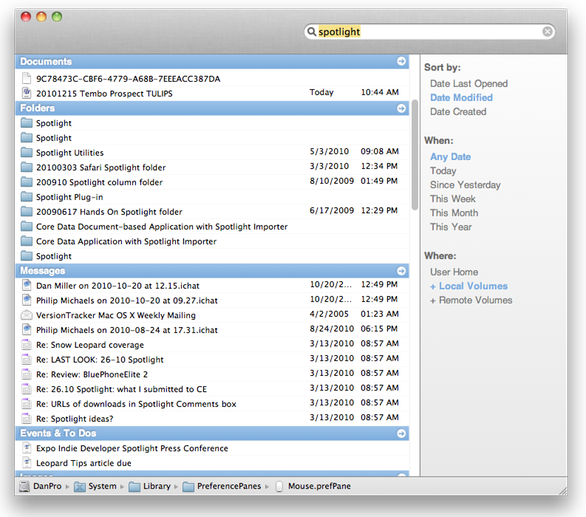 Within each group, you can choose to sort by date modified, created, or last opened by clicking one of the Sort By options to the right. You can also filter the entire results listing by date, showing only files created (or modified or last opened, depending on your sorting choice) today, since yesterday, this week, this month, or this year. Similarly, you can choose to show only files and folders residing in your Home folder, or include local volumes or remote volumes (although this location filter didn't work properly for me in the current beta).
Select a result and you can see, at the bottom of the window, the full path to that item. Right-click (Control-click) on a result and you get options to open the item in its default program, open it in another program, reveal it in the Finder, or get information (using the Finder's Get Info feature) on it. Select an item and press Spacebar and you get a standard Quick Look preview of the item. And, of course, double-click an item to open it.
If this is all Tembo did, it would essentially be "Tiger's Spotlight in Snow Leopard." But click the arrow icon next to a group, and you discover the program's hidden power: many more options for sorting and filtering just that group of search results. For starters, you can view results in icon view or list view, with list view adding the capability to sort by name, date modified, or size. But the most useful feature for me is that, in either view, you can use new filtering options to further whittle down your search results to find exactly what you're looking foor. For example, you can filter messages by subject, sender, and recipient; documents by file type (Alias, Word, Pages, Rich Text, Zip, and so on); images by type and resolution; PDFs by author; Safari bookmarks by type (bookmark or history item) and domain; music by file type and artist; video by file type and codec—you get the picture. Although it's possible to do most of this in Spotlight without Tembo, it's neither easy nor fun. Tembo is as close to fun as I've had using Spotlight.
You can also perform a new search from within a category using Tembo. So if you know you're looking for a PDF file, you can choose File -> New Detail Search -> New PDF Search and then type your search term. The results window will show only PDF results.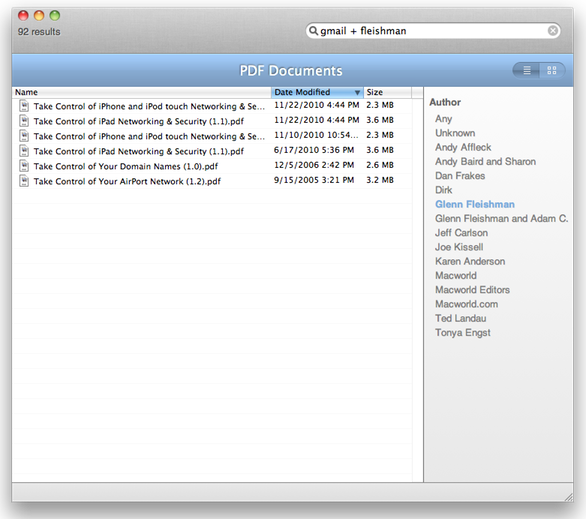 By default, Tembo searches the names and contents of files, along with other textual data indexed by Spotlight. But you can use a few basic query prefixes, listed in the program's Help, to restrict your search to only names, only contents, or only particular types of data.
Tembo still has a few rough spots, but it's a beta—I'm looking forward to seeing it mature into a 1.0 product. The developer says the final version of Tembo is "headed to the Apple App Store," and that seems like a great fit, considering that Tembo aims to do for Spotlight what the App Store wants to do for Mac software: make it easier to take full advantage of your Mac.
Want to stay up to date with the latest Gems? Sign up for the Mac Gems newsletter for a weekly e-mail summary of Gems reviews sent directly to your Inbox. You can also follow Mac Gems on Twitter.