Mashed Pixel on Wednesday unveiled its new Surc case, which adds a universal infrared remote to your iPhone 4, 3GS, or 3G. Surc, which the company says will be available early in 2011, works in conjunction with a free app which will require iOS 4 or higher.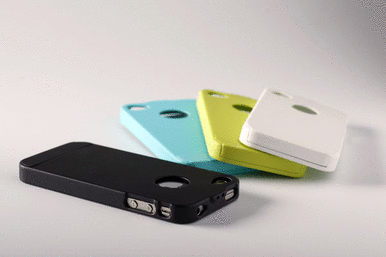 Fortunately, you don't need to figure out any annoying codes to get the Surc to talk to your devices; rather, you train the app by pushing the proper buttons on your real remote so that it can learn how to recreate the necessary infrared signals. Even better, you can share remote configurations with others and download presets for specific devices, avoiding the annoying initial programming process completely.
Then, when you launch the app, you can theoretically control any of your infrared devices (like televisions, DVD players, and the like) from your iPhone. You can choose to move buttons around, add or remove them, and choose between various visual themes. The app even lets you create custom gestures to trigger certain actions, like using a swipe for muting.
As with the Logitech Harmony remotes, the Surc app will let you assemble combinations of devices. If you need to swap the TV's input and turn on your audio receiver and the DVD player when you want to watch a movie, you can configure a single button to trigger all of those actions at once.
Of course, given that the technology relies on using the custom case, you can't use Surc with an iPad, and you can't use your old case if you upgrade to a newer model of iPhone. Mashed Pixel says iPad and iPod touch-compatible versions of the Surc are coming eventually.
The 20g Surc case is certified as part of Apple's Made for iPhone program and will come in the four colors seen above. You can pre-order the Surc for $70.