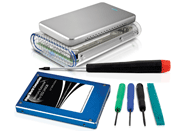 OWC on Tuesday announced its new Do-It-Yourself (DIY) SSD Storage Upgrade Kit. The kit allows owners of the MacBook, MacBook Pro, and Mac mini to upgrade the hard drive and replace it with a solid-state drive (SSD) from OWC.
The kit comes with OWC's 2.5-inch Mercury Extreme Pro SSD and the capacities available range from 40GB to 480GB. OWC provides a tool kit for performing the installation and cables for transferring data from the old drive to the new SSD. OWC also has available data transfer instructions and online videos that demonstrate how to install the new SSD.
The kit also includes a 2.5-inch portable external enclosure, so you can use your old drive as a portable external drive. You can choose between an aluminum case with USB 3.0 and USB 2.0 connectors, and a clear plastic case with FireWire 800 and USB 2.0 connectors.
Pricing for the DIY SSD Storage Upgrade Kit start at $110. OWC lists its warranty information here.