When Halfbrick Studios released Age of Zombies for the Sony PSP platform earlier this year, people went nuts for it. The zombie-themed twin stick shooter's hilariously irreverent protagonist Barry Steakfries (a parody of '80s action movie stars) and fantastic writing quickly earned it a spot at the very top of the service's sales charts. Another game starring Barry, Monster Dash came to the App Store earlier this year, and now Barry's original adventure is coming to the iPhone and iPad with updated, retina display-ready graphics, online leaderboards via Game Center, and full analog shooting using dual touch controls.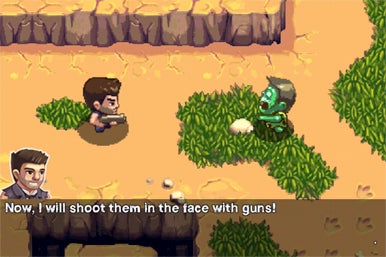 As the always-tactful Barry Steakfries, you must travel through time with the single goal of killing as many zombies as possible. Whether you're in ancient Egypt or the robot-infested future, it's always a good idea to keep on shooting by aiming with the right stick as enormous waves of zombies come thundering toward you from every direction. Your default pistol has unlimited ammo, but you'll also gain access to occasional powerful weapon pickups like miniguns and bazookas as you dodge your way around the various top-down levels. The two virtual control sticks allow for easy movement and aiming for the most part, although you'll likely run into problems when attempting to lob a grenade or a land mine, which requires the use of another on-screen button that's a bit of a pain to reach since you'll have to stop aiming with your right thumb to tap it.
Using an SMG to mow down cavemen who have been infected by time-traveling zombies is in itself a pretty ridiculous scenario, and Halfbrick embraces its own absurdity even further with the game's writing. Barry's dialogue is as witty as it is ludicrous, and his propensity for one-liners is only superseded by his interminable desire to shoot zombies in the head. With lines like "Holy Balls, a Zombie T-Rex!" breaking up the action, it's hard not to smile while playing Age of Zombies.
Age of Zombies is by no means the first good dual stick shooter on the App Store, but its colossal personality makes it unique. The game's graphics, which resemble high-resolution a Sega Genesis game, are crystal clear and beautiful on both the iPhone and iPad. The game's lighthearted fun is only enhanced by the fantastic character lent to it by its writers.
Age of Zombies offers just enough content to feel like a good deal, and Halfbrick has promised to add even more levels in the future via content updates. The promise of more content, coupled with a fun survival mode and numerous Game Center achievements make this a game that shooter fans are likely to get their money's worth from.
[Ryan Rigney is a frequent contributor to Macworld.]