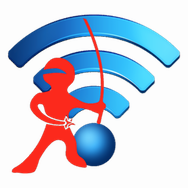 Apple touted AirPlay as a banner feature of both iOS 4.2 and iTunes 10.1, but unless you've managed to snag yourself a shiny new Apple TV, you haven't been able to get the most out of it—until now. On Tuesday, developer and blogger Erica Sadun released an early alpha build of AirPlayer, a new Bonjour-based program that allows your iOS device to stream supported audio and video to your Mac.
AirPlay works via Apple's Bonjour service to connect two devices on a Wi-Fi network so that they can exchange information—in this case, video and audio. (For those curious about the technical details, Sadun has a writeup on TUAW from earlier in December with a more thorough explanation.) Her program works by imitating the Apple TV's connection protocols, allowing your iPod, iPhone, or iPad to identify your computer as an AirPlay-supported device.
Currently, you can only stream media from Apple-sanctioned apps like YouTube, though Sadun notes that this field widens if you choose to jailbreak your device and install AirVideoEnabler. (Sadly, the iPod app is not currently supported, as it still currently retains older AirTunes codecs.) The application is ad-supported, and, as Sadun points out, "extremely alpha"—after installing the latest build, I was able to stream a YouTube trailer, but it required restarting my iPhone beforehand. In any case, your mileage may vary, though Sadun has built a Send Feedback button into the app for reporting crashes, hang-ups, and the like.
If you want to give AirPlayer a try, you can download it for free from Sadun's Website.